Spouse Calls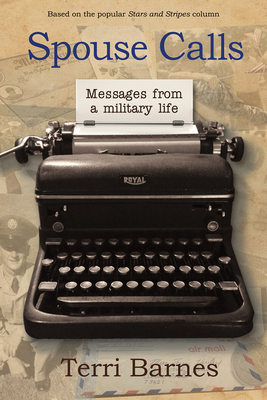 Spouse Calls
Messages From a Military Life
Elva Resa Publishing, Paperback, 9781934617250, 192pp.
Publication Date: March 1, 2014
* Individual store prices may vary.
Buy at Local Store
Enter your zip code below to purchase from an indie close to you.
or
Not Currently Available for Direct Purchase
Description
Spouse Calls: Messages From a Military Life is a collection of the best military life columns by respected journalist Terri Barnes, based on her popular weekly Spouse Calls column in Stars and Stripes.
From her own kitchen table to Capitol Hill, Terri takes readers beyond the headlines and homecoming videos for an inside look at the day-to-day hardships, victories, and many ways military life shapes, challenges, and enriches its families.
In both her column and her book, Terri reports and reflects on a wide range of topics, including motherhood, faith, friendship, family ties, war, current events, sacrifice, and PTSD. As a wife and mom, Terri highlights important, pivotal moments in her own family's life as well as others', in essays that will resonate with both military and non-military families.
Through poignant personal stories, incisive interviews, and emotive reflections, Terri creates an historical snapshot of American and world affairs, preserving an important piece of our nation's culture.
About her book, Terri says, "My hometown isn't a geographical location, but a place in American culture that is invisible to many people. My family lives in the hometown of military installations and military communities. This book is the story of the people we know and the life we live in the neighborhood of our American military life."
Praise For Spouse Calls…
Terri Barnes is a voice for military families, reminding us all that they are still serving around the world. Listen in, and you'll hear the pride she takes in her husband's service and her own, and the joy she finds in encouraging her fellow spouses. You'll also gain an understanding of what binds military families together and keeps them marching forward.

-- Lee Woodruff, CBS This Morning contributor, NYT best-selling co-author of In an Instant and co-founder of the Bob Woodruff Foundation
Military spouses will laugh, sob, nod in agreement. You'll find yourself itching to write in a comment about stories that particularly hit home, wanting to say "I know EXACTLY what you mean!" Terri captures our lives, shining a light on the joys but just as often tackling the truly difficult aspects of our military lives."

-- Kathie Hightower and Holly Scherer, coauthors of Military Spouse Journey: Discover the Possibilities & Live Your Dreams