The Convalescent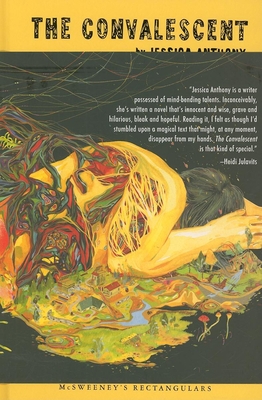 The Convalescent
McSweeney's Books, Hardcover, 9781934781104, 243pp.
Publication Date: June 1, 2009
* Individual store prices may vary.
Buy at Local Store
Enter your zip code below to purchase from an indie close to you.
or
Buy Here
Description
The Convalescent is the story of a small, bearded man selling meat out of a bus parked next to a stream in suburban Virginia . . . and also, somehow, the story of 10,000 years of Hungarian history. Jessica Anthony, the inaugural winner of the Amanda Davis Highwire Fiction Award, makes an unforgettable debut with an unforgettable hero: Rovar Ákos Pfliegman unlikely bandit, unloved lover, and historian of the unimportant.
Praise For The Convalescent…
"Anthony's compulsively readable debut novel stars Rovar Pfliegman, who sells meat out of a bus in Virginia. Rovar is a peculiar, troll-like man: he is short and hairy, has not spoken since childhood, keeps a pet beetle and lives in the same broken-down bus that houses his meat business. But perhaps the most remarkable thing about Rovar is his precarious singularity. He is the last of the Pfliegmans and, by his own account, he is falling apart. Although he halfheartedly seeks treatment for his various ailments, he seems far more bent on fulfilling the destiny of self-destruction all Pfliegmans (according to Rovar) are subject to. Rovar's explanation of his family sprawls deep into the past, probing beyond his chaotic childhood all the way back to the origins of the Pfliegman clan in premedieval Hungary. Along the way, the narrative nods to all sorts of greatsKafka, Rushdie, Darwin and Grass, to name a few. But Anthony's stylefunny, immediate and unapologetically cerebralcarves out a space all its own."
Publishers Weekly (Starred Review)

"[Rover] belongs in the bus the same way his ancestors belonged on the sidelines of history, numbers dwindling during the many invasions of Hungary, the birth of the Austro-Hungarian Empire, the death of Franz Ferdinand, the German occupation of Hungary and the Soviet occupation of Budapest, until there is only one Pfliegman left, Rovar, who, faced with extinction, instead finds himself reborn in the most awkwardly beautiful of ways."
Dewey Hammond, San Francisco Chronicle

"By the time you come to leave Anthony's curiously warped world of grumpy mute dwarves, medieval giants and packaged meat, you'll find yourself wishing that real life was actually this vibrant and colourful. And when you find yourself being envious of a Hungarian dwarf with a rare skin condition, you know that the author has pulled off a very remarkable feat indeed."
Spike Magazine

"A breathtaking and wholly captivating world. Anthony blends modern Americana, existential musing, absurdism and history, and grounds it all with the ever present voice of our narrator, Rovar. This voice is her greatest triumph, and the center around which the rest of the book revolves. We are able to see the constant stream of thought of a man who sees everything and says nothing, who records that which the rest of the world forgets, and who sees our world from a wholly unique perspective. This voice is earthy and cantankerous, while also being sweet and endearing."
Andrew Wright, Pop Damage

Jessica Anthony is a writer possessed of mind-bending talents. Inconceivably, she's written a novel that's innocent and wise, grave and hilarious, bleak and hopeful, fast-paced and meditative, heartbreaking and heart healthy, evanescent and concrete. Reading it, I felt as though I'd stumbled upon a magical text that might, at any moment, disappear from my hands. The Convalescent is that kind of special."
Heidi Julavits

"Jessica Anthony has given a voicewry, sad, and arrestingto the wounded little homunculus that lives, largely ignored, in all of us, a creature that wrestles with a guilt and grief that is as historical as it is personal. The Convalescent is a melancholy delight."
Chris Adrian

The Convalescent is a fleshy fable spinning in and out of its own enormous, fabulous history. It is lush, cranky, and powered by dark, sweet humor. Mesmerizing. And a lot of fun. I enjoyed it completely."
Katherine Dunn

"A blissfully nutty, brainy, ribald, brilliantly imaginative ode to human loneliness, oddity, and persistence."
Francisco Goldman