Fever Chart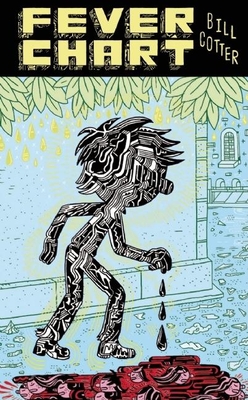 Fever Chart
McSweeney's Books, Hardcover, 9781934781418, 305pp.
Publication Date: September 1, 2009
* Individual store prices may vary.
Buy at Local Store
Enter your zip code below to purchase from an indie close to you.
or
Buy Here
Description
Having spent most of his life medicated, electroshocked, and institutionalized, Jerome Coe finds himself homeless on the coldest night of the century and so, with nowhere else to go, he accepts a ride out of New England from an old love's ex-girlfriend. It doesn't quite work out, but he makes it to New Orleans, and a new life work, friends, and only the occasional psychotic break. What follows involves his last two chances to find real happiness (one's from Ecuador, one sells cigarettes), the old vicious enemies that may prevent him from obtaining it, and a cast of Crescent City denizens that makes for one of the most vivid ensembles since Toole's A Confederacy of Dunces.
About the Author
BILL COTTER grew up in Rocky River, Ohio. After graduating from art school, he moved to New York City, and worked as a Pre-K art and music teacher in Manhattan. Bill currently lives in Baltimore, Maryland, where he spends days doodling and hanging out with his basset hound named Goober. Visit billcotter.com for more.
Praise For Fever Chart…
Bill Cotter's Fever Chart proves there is still fresh wit and fierce life in the American tongue. Read this book."
Wells Tower


As a blurber I am required to say Edgar Rice Burroughs meets Thomas Pynchon' or George Saunders meets Mickey Spillane.' But the truth is I'm not sure who's meeting whom. All I know is they're meeting on a teacup ride in a seedy amusement park, a teacup ride that has miserably failed its inspection, making the experience pleasantly familiar but alarmingly skewed, full of fun but deadly dangerous. You'll be dizzy when it's over if it doesn't fly apart and chop your head off. But the ride is worth it."
Jack Pendarvis


"Fever Chart is not about the destination so much as the reckless, driving-with-your-knees journey, and Jerome Coe is an antihero for the ages."
Texas Monthly


"Jerome Coe is a troubled young man who leaves behind the mental hospital he occasionally finds himself in to take an exciting romp through the same New Orleans that played so centrally in John Kennedy Toole's Confederacy of Dunces. While Ignatius Reilly and Jerome would probably ignore each other if they passed on Bourbon Street, there is little doubt that they inhabit the same city, a baroque mess of a place, inhabited almost entirely by strange grotesques. Coe's misadventures make for a lively, engaging read, that is funny as well as poignant. In a series of flashbacks, Cotter allows us cunning insight into the mind of Jerome Coe and the circumstances that led him to the mental hospital. A fun, engaging read that will satisfy an one left wanting more of New Orleans after encountering Confederacy."
Nate Campbell, Pop Damage

Fever Chart is one of the year's most wonderfully dark and entertaining novels, and its protagonist Jerome Coe an unfortgettable literary character."
Large Hearted Boy

Fever Chart is a disarming, frenetic and loving portrait of mental illness set in dirty New Orleans with a story that swept me up into an unplanned day of reading on the couch and a descriptive style that made me pray never to encounter a gangrened hand stuck inside a diaper-cum-bandage. The kicker: Ron Regé, Jr.'s incredible cover design."
Domy.com