Zeitoun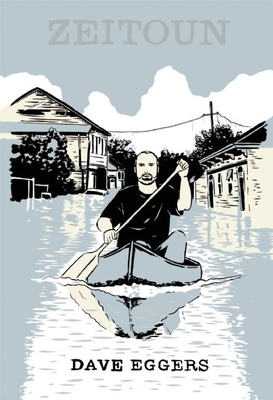 Zeitoun
McSweeney's Books, Hardcover, 9781934781630, 351pp.
Publication Date: July 1, 2009
* Individual store prices may vary.
Buy at Local Store
Enter your zip code below to purchase from an indie close to you.
or
Not Currently Available for Direct Purchase
Description
When Hurricane Katrina struck New Orleans, Abdulrahman Zeitoun, a prosperous Syrian-American and father of four, chose to stay through the storm to protect his house and contracting business. In the days after the storm, he traveled the flooded streets in a secondhand canoe, passing on supplies and helping those he could. A week later, on September 6, 2005, Zeitoun abruptly disappeared. Eggers's riveting nonfiction book, three years in the making, explores Zeitoun's roots in Syria, his marriage to Kathy an American who converted to Islam and their children, and the surreal atmosphere (in New Orleans and the United States generally) in which what happened to Abdulrahman Zeitoun was possible. Like What Is the What, Zeitoun was written in close collaboration with its subjects and involved vast research in this case, in the United States, Spain, and Syria.
About the Author
Dave Eggers is the bestselling author of seven books, including "A Hologram for the King", a finalist for the National Book Award; "Zeitoun", winner of the American Book Award and Dayton Literary Peace Prize; and" What Is the What", which was a finalist for the National Book Critics" "Circle Award and won France s "Prix Medici". That book, about Valentino" "Achak Deng, a survivor of the civil war in Sudan, gave birth to the Valentino Achak Deng Foundation, which operates a secondary school in South Sudan run by Mr. Deng. Eggers is the founder and editor of McSweeney s, an independent publishing house based in San Francisco that produces a quarterly journal, a monthly magazine, "The Believer: ", a" "quarterly DVD of short films and documentaries, " Wholphin", and an" "oral history series, Voice of Witness. In 2002, with Ninive Calegari he cofounded 826 Valencia, a nonprofit writing and tutoring center for youth in the Mission District of San Francisco. Local communities have since opened sister 826 centers in Chicago, Los Angeles, New York, Ann Arbor, Seattle, Boston, and Washington, D.C. Eggers is also the founder of ScholarMatch, a program that matches donors with students needing funds for college tuition. A native of Chicago, Eggers now lives in Northern California with his wife and two children.""
Praise For Zeitoun…
Imagine Charles Dickens, his sentimentality in check but his journalistic eyes wide open, roaming New Orleans after it was buried by Hurricane Katrina.... Eggers's tone is pitch-perfectsuspense blended with just enough information to stoke reader outrage and what is likely to be a typical response: How could this happen in America?... It's the stuff of great narrative nonfiction.... Fifty years from now, when people want to know what happened to this once-great city during a shameful episode of our history, they will still be talking about a family named Zeitoun."
Timothy Egan, The New York Times Book Review

Zeitoun is a riveting, intimate, wide-scanning, disturbing, inspiring nonfiction account of a New Orleans married couple named Abdulrahman and Kathy Zeitoun who were dragged through their own special branch of Kafkaesque (for once the adjective is unavoidable) hell after Hurricane Katrina.... [It's] unmistakably a narrative feat, slowly pulling the reader into the oncoming vortex without literary trickery or theatrical devices, reminiscent of Mailer's Executioner's Song but less craftily self-conscious in the exercise of its restraint. Humanistic, that is, in the highest, best, least boring sense of the word."
James Wolcott, Vanity Fair

A fiercely elegant and simply eloquent tale.... So fierce in its fury, so beautiful in its richly nuanced, compassionate telling of an American tragedy, and finally, so sweetly, stubbornly hopeful."
Susan Larson, New Orleans Times-Picayune

In Zeitoun, [Eggers] tells a story made more upsetting by the fact that although it surpasses our worst nightmares, it is absolutely true. A major achievement and [Eggers'] best book yet."
Andrew Ervin, Miami Herald

Eggers' sympathy for Zeitoun is as plain and real as his style in telling the man's story. He doesn't try to dazzle with heartbreaking pirouettes of staggering prose; he simply lets the surreal and tragic facts speak for themselves. And what they say about one man and the city he loves and calls home is unshakably poignantbut not without hope."
Chris Nashawaty, Entertainment Weekly

The book serves as a damning indictment of governmental and judicial failings in the wake of Katrinabut beyond that, it recounts a wrenching, human story of family, faith and, ultimately, hope. Dave Eggers is an important writer with a big heart, as conscientious as he is prolific. Whatever he does next, and however he does it, his work matters, and people should be listening."
Pasha Malla, The Toronto Globe and Mail

Zeitoun is a story about the Bush administration's two most egregious policy disastersthe War on Terror and the response to Hurricane Katrinaas they collide with each other and come crashing down on one family. Eggers tells the story entirely from the perspective of Abdulrahman and Kathy Zeitoun, although he says he has vigorously double-checked the facts and removed any inaccuracies from their accounts. At first, as a reader, I felt some resistance to this tacticcould the Zeitouns possibly be as wholesome and all-American as Eggers depicts them?but the sheer momentum, emotional force and imagistic power of the narrative finally sweep such objections away."
Andrew O'Hehir, Salon

Which makes you angrierthe authorities' handling of Hurricane Katrina or the treatment of Arabs since Sept. 11, 2001? Can't make up your mind? Dave Eggers has the book for you. Zeitoun is a warm, exciting and entirely fresh way of experiencing Hurricane Katrina. Eggers makes this account completely new, and so infuriating I found myself panting with rage."
Dan Baum, San Francisco Chronicle

I can't recommend this book highly enough. Not only was I completely immersed in the story, but it's important that we learn about one of the most defining events in recent U.S. history. Also, I loved how Eggers goes back and forth from the present to the past with events that provide insight on the people he documents throughout his book. The reader learns about Zeitoun growing up in Syria and his life at sea, what led Kathy to Islam, how Zeitoun and Kathy met and got married, and a multitude of other events that truly define these people and make them easy to relate to, making their struggle our struggle, whether one is Muslim or not."
Bushra Burney, Media and Islam

"Eggers does a masterful job weaving Zeitoun's story together to show the multiple dimensions of his experienceZeitoun's belief in America's highest ideals and principles and shock at their violation, his love of his community, his family's fears and his current efforts to put this sad chapter behind him to focus on the real work at handrebuilding his home, New Orleans. This book and story will go down in history as many narratives do that recount incredibly transformative times in our nation's history. What is so heartening is that Eggers avoids telling a 'Muslim' story and instead tells an important and rich American story through the experience of an exceptional American family that is Muslim, nothing more and nothing less."
Jordan Robinson, altmuslim

Eggers is a tremendously gifted writer of narrative nonfiction. So good, in fact, that his new work is the best book this reviewer has read so far this year. Eggers' book is a marvel: simple yet moving and eloquent, gentle yet reaching deep to the heart of his very human story of one family, unflinching from tragedy but in the end, cautiously hopeful. There are other books that give a broader view of Katrina and its aftermathBreach of Faith by Jed Horne and The Great Deluge by Douglas Brinkley are especially goodbut Eggers' portrait of one American family's astounding experiences, of their own country after the storm, is no doubt the Katrina book' people will be talking about years from now."
Creative Loafing

"Zeitoun offers a transformative experience to anyone open to it, for the simple reasons that it is not heavy-handed propaganda, not eat-your-peas social analysis, but an adventure story, a tale of suffering and redemption, almost biblical in its simplicity, the trials of a good man who believes in God and happens to have a canoe. Anyone who cares about America, where it is going and where it almost went, before it caught itself, will want to read this thrilling, heartbreaking, wonderful book."
Neil Steinberg, Chicago Sun-Times

I first read about Abdulrahman Zeitoun in a book of oral histories about Hurricane Katrina published by McSweeney's. Zeitoun, a Syrian American contractor survives Katrina, even manages to save some lives, only to fall victim to the trappings of the Bush-era Department of Homeland Security. Dave Eggers works some of the same magic here that made his novel/biography What
Is the What such a powerful read. Gripping, lyrical, and so real it makes
you ache."
Edwidge Danticat, The Progressive