Crogan's March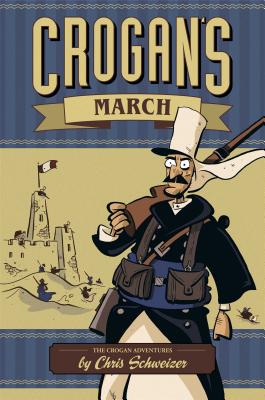 Crogan's March
Oni Press, Hardcover, 9781934964248, 208pp.
Publication Date: December 1, 2009
* Individual store prices may vary.
Buy at Local Store
Enter your zip code below to purchase from an indie close to you.
or
Not Currently Available for Direct Purchase
Description
"the Crogans' escapades are becoming simply some of the finest comics adventures around." - Booklist (STARRED) "The cartoon illustrations seem simple at first, but every emotion the characters go through on their journey is visible on their faces. Schweizer keeps the drawings visually compelling, yet extremely basic at the same time, and kids will forget they're reading in black and white. While obviously geared toward younger readers, this is a story that a wide range of ages will enjoy." - School Library Journal When Legionnaire Peter Crogan loses a friend and comrade to a violent sand storm, he is forced to confront some hard questions. Should he wait out the rapidly approaching end of his five-year term of service with the French Foreign Legion, or should he accept an offer of promotion and devote his life to a campaign whose purpose is an enigma to him? Crogan won't have much time to consider his options as he's besieged by the armies of the infamous Tuaregs, under attack from desert raiders, beat down by the relentless heat, and trapped in a cave with a mysterious and terrible creature who is picking off the people in his party, one-by-one. Luckily, he won't have to go it alone He's but one man in a rag-tag group of hardened fighters, all under the command of a brutally strict sergeant and a dashing captain who may be too brave for his own good... Return to the adventure-prone exploits of Chris Schweizer's not-so-famous fictional family with this new epic volume in the critically acclaimed Crogan Adventures series.