Nothing Created Everything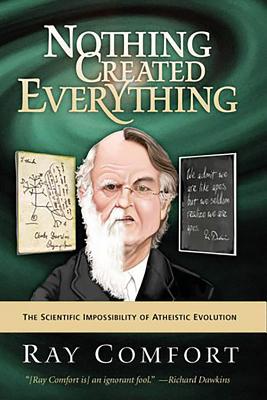 Nothing Created Everything
The Scientific Impossibility of Atheistic Evolution
WND Books, Hardcover, 9781935071235, 224pp.
Publication Date: October 1, 2009
* Individual store prices may vary.
Buy at Local Store
Enter your zip code below to purchase from an indie close to you.
or
Buy Here
Description
Richard Dawkins is arguably the modern poster boy for Charles Darwin. However, a key difference radically separates the two men. Darwin believed in the existence of God and calls God the Creator seven times in The Origin of Species. Dawkins, in contrast, claims, The more you understand the significance of evolution, the more you are pushed...towards atheism. It seems Professor Dawkins thinks Charles Darwin didn't understand his own theory. Just months after the 2009 discovery of the supposed missing link, author Ray Comfort turns the tables on evolutionists. In Nothing Created Everything, he examines the evidence for evolution and shows it is lacking. He demonstrates that when it comes to explaining how life began, atheists and evolutionists offer faith not facts. Ironically, atheists insist nothing created everything, a scientific impossibility. In a conversational tone, Comfort speaks to both atheists and believers and urges this discussion be based on hard evidence. And when it is, he insists, people will realize evolution is a theory that can't be tested or measured and therefore can't be scientific.
About the Author
Ray Comfort is the Founder/President/CEO of Living Waters Publications. After relocating from New Zealand to Southern California in the late 1980s, Ray introduced a long line of pastors and churches to a biblical teaching which he called Hell's Best Kept Secret. The positive and enthusiastic response that followed took Ray s Living Waters Publications ministry to a whole new level. From humble beginnings, LWP has become an internationally recognized ministry, reaching the lost and equipping Christians with every necessary resource to fulfill the great commission. Ray Comfort is the co-host (with Kirk Cameron) of the award-winning television program "The Way of the Master," which airs in 123 countries around the world. Ray is a best-selling author of more than 70 books. He and his wife, Sue, live in Southern California, where they have three grown children.