Nothing Lasts Forever (Basis for the Film Die Hard)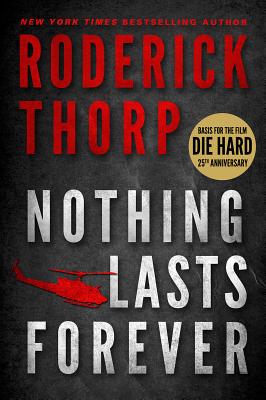 Nothing Lasts Forever (Basis for the Film Die Hard)
Graymalkin Media, Paperback, 9781935169185, 245pp.
Publication Date: December 17, 2012
* Individual store prices may vary.
Buy Now
or
Shop Local
Enter your zip code below to purchase from an indie close to you.
Description
"High atop a Los Angeles skyscraper, an office Christmas party turns into a deadly cage-match between a lone New York City cop and a gang of international terrorists. Every action fan knows it could only be the explosive big-screen blockbuster Die Hard. But before Bruce Willis blew away audiences as unstoppable hero John McClane, author Roderick Thorp knocked out thriller readers with the bestseller that started it all.

A dozen heavily armed terrorists have taken hostages, issued demands, and promised bloodshed all according to plan. But they haven't counted on a death-defying, one-man cavalry with no shoes, no backup, and no intention of going down easily. As hot-headed cops swarm outside, and cold-blooded killers wield machine guns and rocket launchers inside, the stage is set for the ultimate showdown between anti-hero and uber-villains. Merry Christmas to all, and to all a good fight to the death. Ho ho ho "

About the Author
Roderick Thorp is the author of "The Detective", "Rainbow Drive", and"Nothing Lasts Forever", the basis for the movie "Die Hard". He has worked as a private detective and done extensive crime reporting, including a twenty-one-part series on cocaine traffic in Southern California, which was published in the "Los Angeles Herald Examiner". Thorp s other novels include "Into the Forest", " Dionysus", "Slaves", "The Circle of Love", "Westfield", "Jenny and Barnum", "Devlin", and "River".