Bo's Cafe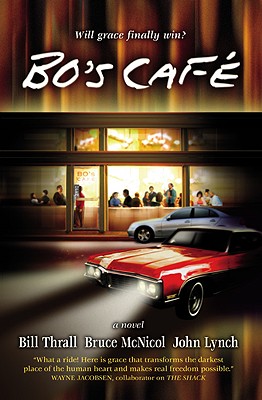 Bo's Cafe
Windblown Media, Paperback, 9781935170044, 246pp.
Publication Date: September 1, 2009
* Individual store prices may vary.
Buy at Local Store
Enter your zip code below to purchase from an indie close to you.
or
Buy Here
Description
High-powered executive Steven Kerner is living the dream in southern California. But when his bottled pain ignites in anger one night, his wife kicks him out. Then an eccentric mystery man named Andy Monroe befriends Steven and begins unravelling his tightly wound world. Andy leads Steven through a series of frustrating and revealing encounters to repair his life through genuine friendship and the grace and love of a God who has been waiting for him to accept it. A story to challenge and encourage, BO'S CAFE is a model for all who struggle with unresolved problems and a performance-based life. Those who desire a fuller, more authentic way of living will find this journey of healing a restorative exploration of God's unbridled grace.
About the Author
John Lynch is a Professor of Epidemiology and Canada Research Chair in Population Health. He was trained in Australia and the US and received his PhD in epidemiology from the University of California at Berkeley in 1995. From 1997-2005 he worked in the Dept. Epidemiology at the University of Michigan School of Public Health.

There's a reason why everyone from CEO's of worldwide companies to heads of mission organizations to the newlyweds down the block want to have Bill Thrall as their mentor. His experience and wisdom prove true as he helps others establish trust in all their key relationships and nurtures grace-based communities. As the Vice Chair, co-author and leadership mentor for Leadership Catalyst (LCI) since 1995, Bill's genuine desire to see relational health in those he works with, has been vital in setting the tone of the organization. His eloquence and integrity have given him opportunities to teach LCI's principles internationally. His wisdom has been penned throughout the entire series of The Ascent of a Leader, Beyond Your Best, and TrueFaced Experience books.Prior to joining LCI, Bill founded and pastored the influential church, Open Door Fellowship, for over 20 years. While there, he developed an effective character development training program that nurtured visionaries such as Kit Danly, founder of Neighborhood Ministries in Phoenix, AZ. These training sessions became the basis for the TrueFaced message. In his spare time, Bill can be found fishing, crafting furniture for his family in his wood shop or cultivating fruits, vegetables and herbs in his beautiful backyard garden. Bill and his wife, Grace have three grown children-- Wende, Bill, and Joy--and nine grandchildren

Alan Andrews and his wife, Becky, joined the Navigator ministry in 1970 while attending Marshall University in West Virginia. They went on to lead Collegiate and Community ministries in Illinois from 1970 to 1976 before moving to Toronto, Ontario, to direct the Canadian national work. From 1990 to 1995, Alan directed Navigator ministries in the established countries of Asia. In September 1995, he became national field leader with the U.S. National Leadership Team, and in 1997 he was selected as president of the U.S. Navigators.