Tomato Red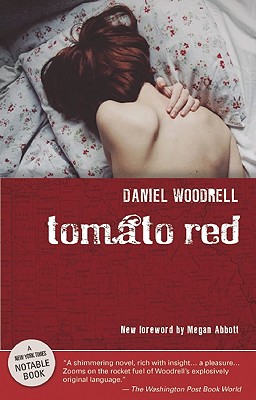 Tomato Red
Busted Flush Press, LLC, Paperback, 9781935415060, 220pp.
Publication Date: September 1, 2010
* Individual store prices may vary.
Buy at Local Store
Enter your zip code below to purchase from an indie close to you.
or
Not Currently Available for Direct Purchase
Description
Back in print, an acclaimed crime novel set in the Ozarks.
Praise For Tomato Red…
"The characters in Daniel Woodrell's Tomato Red speak the poetry of the trailer park in a world where all wisdom is hard-won. Here there are no trust fund babies plagued by ennui. Woodrell's universe is strictly hard-scrabble, where the only struggle involving identity is the one to keep it concealed. We are better for knowing it." -- Thomas H. Cook, Edgar Award-winning author of The Last Talk with Lola Faye

"Three pages into Tomato Red I got that inexplicable head rush that comes from wondering how I'd never heard of the book or of Daniel Woodrell, and regretting the years I was ignorant of both. Woodrell writes with a poetic, lyrical, breezy style that reminds me of authentic country artists like George Jones or Hank Williams but he somehow does it on the page. He packs an entire world into a short book and leaves you yearning for more. Thank you, Busted Flush Press, for introducing me to Woodrell. Now others won't make the mistake I made." -- C. J. Box, Edgar-winning author of Nowhere to Run

"Reading Tomato Red -- the first Daniel Woodrell novel I came upon -- was a transformative experience. It expanded my sense of the possibilities not only of crime fiction, but of fiction itself -- of language, of storytelling. Time and again, his work just dazzles and humbles me. God bless Busted Flush for these glorious reissues. It's a service to readers everywhere, and a great gift." -- Megan Abbott, award-winning author of Bury Me Deep

"Whenever I'm in need of inspiration, resuscitation -- a big, heaping blast of air -- I read the opening page of Tomato Red. By the end, I'm always grinning: that disbelieving, appreciative, joyful grin you get when you come upon the extraordinary. That writing! It's hard to not move when you read Woodrell; his Ozark rhythms will get you toe-tapping, swaying in your seat. It's impossible, in fact, to read Woodrell discreetly: you'll find sentences, dialogue so funny or brutal or just plain brilliant, you need to share them with someone else. His characters are underdogs, heartbreakers, steal-your-wallet-and-kick-you-on the-way-out scoundrels, but you still want more time with them. With Woodrell, you always want more." -- Gillian Flynn, Edgar Award-nominated author of Sharp Objects and Dark Places

"There are a handful of writers who are known, read and revered by other writers for the brilliant beauty of their words. Some have become better known -- James Lee Burke is an obvious example -- but some haven't yet achieved the wide readership that they deserve. Daniel Woodrell is chief amongst them. He's created his own niche in the mystery world -- 'Ozark Noir' -- and he'll dazzle you with each page. Chandler once wrote his ideal of a private eye and I think it applies to writers as well, certainly to Woodrell: 'He must be the best man in his world and a good enough man for any world.' Woodrell is the best at what he does and he can equal the best writing in any other world." -- JB Dickey, Seattle Mystery Bookshop (Seattle, WA)