The New Arcana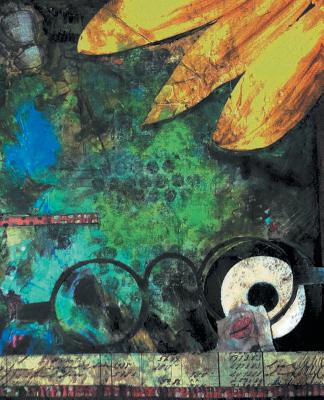 The New Arcana
NYQ Books, Paperback, 9781935520597, 120pp.
Publication Date: August 15, 2012
* Individual store prices may vary.
Buy at Local Store
Enter your zip code below to purchase from an indie close to you.
or
Buy Here
Description
Poetry. THE NEW ARCANA is a multi-genre extravaganza featuring verse, fiction, mock journalism and academic writing, drama, and art. Both referencing and transcending various literary precedents, the book is a pronouncement for the 21st Century, an exploration of and commentary on the fast-paced and mercurial nature of life in the 2000s. Co-written by poets John Amen and Daniel Y. Harris, the book presents a compelling, jazz-like, and satirical style, a third voice born from the mingling of two distinct individual voices. THE NEW ARCANA is a memorable literary statement a manifesto for our time as well as a proclamation regarding the transformative qualities of true collaboration.
About the Author
John Amen is the author of four collections of poetry: Christening the Dancer (Uccelli Press, 2003), More of Me Disappears (Cross-Cultural Communications, 2005), At the Threshold of Alchemy (Presa, 2009), THE NEW ARCANA (with Daniel Y. Harris, NYQ Books, 2012), and STRANGE THEATER (NYQ Books, 2015). His work has appeared in numerous journals nationally and internationally and been translated into Spanish, French, Hungarian, and Hebrew. In addition, he has released two folk/folk rock CDs: All I'll Never Need (Cool Midget, 2004) and Ridiculous Empire (2008). He is also an artist, working primarily with acrylics on canvas. Amen travels widely giving readings, doing musical performances, and conducting workshops. He founded and continues to edit The Pedestal Magazine.

Daniel Y. Harris holds a Master of Arts in Divinity from The University of Chicago, where he specialized in the history and hermeneutics of religion and wrote his dissertation on The Zohar. He is co-author of THE NEW ARCANA (NYQ Books, 2012) and Paul Celan and the Messiah's Broken Levered Tongue: An Exponential Dyad (Cervena Barva Press, 2010) which was picked by The Jewish Forward as one of the 5 most important Jewish poetry books of 2010. He is also the author of Unio Mystica (Cross-Cultural Communications, 2009) and HYPERLINKS OF ANXIETY (Cervena Barva Press, 2013). He is a three-time Pushcart Prize nominee. His poetry, experimental writing, art, and essays have been published in Blazevox, THE DENVER QUARTERLY, European Judaism, EXQUISITE CORPSE, The New York Quarterly, In Posse Review, The Pedestal Magazine, Poetry Magazine.com, Poetry Salzburg Review, Stride Magazine, Ygdrasil, and Zeek: A Jewish Journal of Thought and Culture, among others. His sculptures, paintings and mixed-media assemblages have been exhibited at The Jewish Community Library of San Francisco, Market Street Gallery, The Euphrat Museum, The Center for Visual Arts, and Dolly Fiterman Fine Arts, among others. He was born in Paris, France, has lived in Boston, Denver, Chicago, San Francisco, Oakland, Sacramento, Sonoma County, and now lives in Orange County.