Listen to the Echoes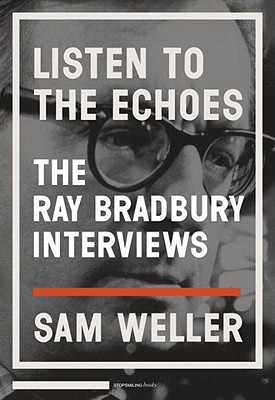 Listen to the Echoes
The Ray Bradbury Interviews
Melville House Publishing, Paperback, 9781935554035, 317pp.
Publication Date: June 29, 2010
* Individual store prices may vary.
Shop Local
Enter your zip code below to find indies closest to you.
Description
A definitive collection of interviews with one of America's most famous writers, covering his life, faith, friends, politics, and visions of the future.
Ray Bradbury, the poetic and visionary author of such classics as "Fahrenheit 451, The Martian Chronicles "and "The Illustrated Man," is one of the most influential writers of the 20th century. From Mikhail Gorbachev to Alfred Hitchcock to David Bowie, Bradbury's sway on contemporary culture is towering. Acclaimed biographer and Bradbury scholar Sam Weller has spent more than a decade interviewing the author; the fascinating conversations that emerge cast a high-definition portrait of a creative genius and a futurist who longs for yesterday. "Listen to the Echoes: The Ray Bradbury" Interviews is the definitive collection of interviews with an American icon.
About the Author
Ray Bradbury (1920 2012) was the author of more than three dozen books, including Fahrenheit 451, The Martian Chronicles, The Illustrated Man, and Something Wicked This Way Comes, as well as hundreds of short stories. He wrote for the theater, cinema, and TV, including the screenplay for John Huston s Moby Dick and the Emmy Award winning teleplay The Halloween Tree, and adapted for television sixty-five of his stories for The Ray Bradbury Theater. He was the recipient of the 2000 National Book Foundation s Medal for Distinguished Contribution to American Letters, the 2007 Pulitzer Prize Special Citation, and numerous other honors.
Sam Weller is the authorized biographer of Ray Bradbury and a two-time Bram Stoker Award finalist. He is the author of The Bradbury Chronicles: The Life of Ray Bradbury (William Morrow, 2005), and Listen to the Echoes: The Ray Bradbury Interviews (Melville House Publishers/Stop Smiling Books, 2010). Weller has written for the Paris Review, National Public Radio, and is the former Midwest Correspondent for Publishers Weekly. His short fiction has been published in numerous journals and magazines.
Mort Castle is a horror author and a writing teacher who has published over 500 short stories. Twice a winner of the Black Quill award, seven times a Bram Stoker Award nominee, Castle edited On Writing Horror, the primary reference work for dark fiction authors. He lives near Chicago with Jane, his wife of 40 years.
Praise For Listen to the Echoes…
"A book that's feisty and that charges full-speed ahead, a book that practically levitates out of your hands as you turn the pages — there is that much energy in it, that much love for life and for books and for the people who make and read them."
—Julia Keller, The Chicago Tribune

"Sam Weller knows more about my life than I do."
—Ray Bradbury

"Weller…organized the interviews into sections such as 'Childhood,' 'Hollywood,' 'Faith,' 'Politics,' and 'Sexuality.' He offers an insightful introduction to each. (Another diehard fan, Black Francis of the Pixies, penned the forward). Overall, this is a book that brims over with inspiration and imagination found in the words of a 90-year-old man who's never lost his passion."
—Chicago Sun-Times

"The book is impressively packed with illuminating details about the rise of such an iconic writer's career. Casual admirer or super-fan, in Listen to the Echoes Ray Bradbury's remarkable spirit will break your heart at least once."
—Nylon

"Weller is the quintessential interviewer who asks probing questions, then gets out of the way so that readers will have the feeling that Bradbury is talking to them. Bradbury comes across as honest, opinionated, passionate, and childlike. This book will please ardent Bradbury fans and those just looking into his work. Recommended."
—Library Journal

Praise for The Bradbury Chronicles
"For Bradbury fans, The Bradbury Chronicles is essential... [A]n engaging, often fascinating tale."
—The New York Times Book Review

"If The Bradbury Chronicles is exhaustive, it is never exhausting, and each anecdote adds light and color to the portrait [Weller] has painted of a writer of real accomplishment."
—The Los Angeles Times