Every Man Dies Alone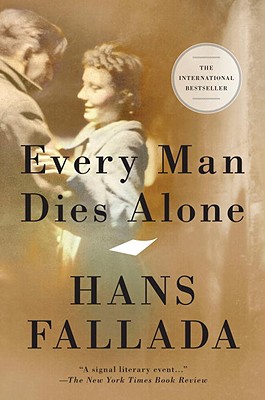 Every Man Dies Alone
Melville House Publishing, Hardcover, 9781935554271, 539pp.
Publication Date: October 19, 2010
* Individual store prices may vary.
Buy at Local Store
Enter your zip code below to purchase from an indie close to you.
or
Not Currently Available for Direct Purchase
Description
This never-before-translated masterpiece by a heroic best-selling writer who saw his life crumble when he wouldn t join the Nazi Party is based on a true story.
It presents a richly detailed portrait of life in Berlin under the Nazis and tells the sweeping saga of one working-class couple who decides to take a stand when their only son is killed at the front. With nothing but their grief and each other against the awesome power of the Reich, they launch a simple, clandestine resistance campaign that soon has an enraged Gestapo on their trail, and a world of terrified neighbors and cynical snitches ready to turn them in.
In the end, it's more than an edge-of-your-seat thriller, more than a moving romance, even more than literature of the highest order it's a deeply stirring story of two people standing up for what's right, and for each other.
About the Author
Hans Fallada was an internationally bestselling German writer who, unlike his peers Mann and Brecht, remained in Germany after the Nazi take-over. After one of his books was made into a Hollywood movie with a Jewish producer, he was prevented from publishing abroad. At war's end he was incarcerated in an insane asylum, and died soon thereafter.

For his translations, acclaimed poet Michael Hofmann has won the Independent Foreign Fiction Prize, the Dublin International IMPAC Award, the PEN/Book-of-the-Month Club Prize, the Helen and Kurt Wolff Translator s Prize, the Oxford-Weidenfeld Translation Prize, and The Schlegel-Tieck Prize (four times). He is the highly acclaimed translator of, among others, Kafka, Brecht, and Joseph Roth.


Praise For Every Man Dies Alone…
A New York Times Book Review Editor's Choice
 
"The greatest book ever written about the German resistance to the Nazis."
–Primo Levi
 
"One of the most extraordinary and compelling novels ever written about World War II. Ever. ... Please, do not miss this."
–Alan Furst
 
"An unrivalled and vivid portrait of life in wartime Berlin."
–Philip Kerr, author of the Berlin Noir series
 
"To read Every Man Dies Alone, Fallada's testament to the darkest years of the 20th century, is to be accompanied by a wise, somber ghost who grips your shoulder and whispers in your ear: "This is how it was. This is what happened."
–New York Times Book Review
 
"Has the suspense of a John le Carré novel … visceral, chilling …."
–The New Yorker
 
"One of the most extraordinarily ambitious literary resurrections in recent memory ...."
–The Los Angeles Times
 
"A one-of-a-kind novel … Fallada can be seen as a hero, a writer-hero who survived just long enough to strike back at his oppressors."
–The Toronto Globe and Mail
 
"Stunningly vivid characters … gets you inside Nazi Germany like no other novel."
–The San Francisco Chronicle
 
"Essential, thrilling."
–The St. Petersburg Times
 
"A masterpiece."
–Nextbook
 
"This is a novel that is so powerful, so intense, that it almost hums with electricity."
–Minneapolis Star-Tribune
 
"It has something of the horror of Conrad, the madness of Dostoyevsky and the chilling menace of Capote's 'In Cold Blood.'... In the quiet Quangels, Fallada has created an immortal symbol of those who fight back against 'the vile beyond all vileness' and so redeem us all."
–     Roger Cohen, The New York Times/International Herald Tribune