Is Journalism Worth Dying For?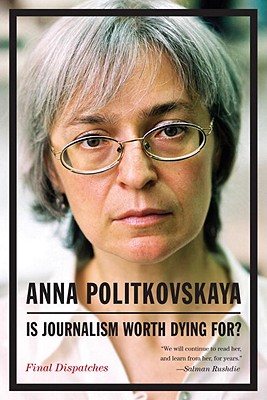 Is Journalism Worth Dying For?
Final Dispatches
Melville House Publishing, Paperback, 9781935554400, 468pp.
Publication Date: March 16, 2011
* Individual store prices may vary.
Buy Now
or
Shop Local
Enter your zip code below to purchase from an indie close to you.
Description
A collection of final dispatches by the famed journalist, including the first translation of the work that may have led to her murder

Anna Politkovskaya won international fame for her courageous reporting. Is Journalism Worth Dying For? is a long-awaited collection of her final writing.

Beginning with a brief introduction by the author about her pariah status, the book contains essays that characterize the self-effacing Politkovskaya more fully than she allowed in her other books. From deeply personal statements about the nature of journalism, to horrendous reports from Chechnya, to sensitive pieces of memoir, to, finally, the first translation of the series of investigative reports that Politkovskaya was working on at the time of her murder—pieces many believe led to her assassination.

Elsewhere, there are illuminating accounts of encounters with leaders including Lionel Jospin, Tony Blair, George W. Bush, and such exiled figures as Boris Berezovsky, Akhmed Zakaev,  Vladimir Bukovsky. Additional sections collect Politkovskaya's non-political writing, revealing her delightful wit, deep humanity, and willingness to engage with the unfamiliar, as well as her deep regrets about the fate of Russia.
About the Author
A special correspondent for Novaya gazeta, Anna Politkovskaya has been honored by Amnesty International and Index on Censorship. In 2000 she received Russia s prestigious Golden Pen Award for her coverage of the war in Chechnya, and in 2005 she was awarded the Civil Courage Prize.


Praise For Is Journalism Worth Dying For?…
Praise for Is Journalism Worth Dying For?

"Is Journalism Worth Dying For? is a book of sustained moral witness....a plangent document of journalistic heroism."
—Dwight Garner, New York Times 

"Of all the investigative reporters I've been acquainted with, Politkovskaya might have embodied the most remarkable combination of courage (some might call it foolhardiness) and talent...Is Journalism Worth Dying For? is a marvelous testament to her courage and skill."
—Steve Weinberg, San Francisco Chronicle

"There is pathos and sorrow in these pages, but also hope and lightness...beautifully, even lyrically, written."
—Michael J. Bonafield, Minneapolis Star Tribune

"Her enduring importance derives from her refusal to capitulate despite seemingly unbearable pressure--and, even more basically, her commitment to rigorous on-the-ground reporting when journalists, even when not faced with official intimidation, spend more time with PR flacks than sources and vicitims."
—Jason Farago, Barnes and Noble Review 

"An essential book for budding Russia hands, followers of world events and fans of good journalism."
—Kirkus Reviews, starred review 

"An inspiring collection."
—Booklist

Praise for Anna Politkovskaya

"Suppression of freedom of speech, of expression, reaches its savage ultimate in the murder of a writer. Anna Politkovskaya refused to lie in her work; her murder is a ghastly act, and an attack on world literature."
—Nadine Gordimer

"Anna Politkovskaya defined the human conscience. Her relentless pursuit of the truth in the face of danger and darkness testifies to her distinguished place in journalism—and humanity." —Christiane Amanpour, anchor of ABC News This Week

"She is the voice of conscience faced with brutal inhumanity and the peril that goes with it. But this superb collection of the pieces she wrote for Novaya gazeta adds another dimension. It measures her as a journalist against other journalists round the world. It reveals a superb original technician."
—Peter Preston, The Observer

"Like all great investigative reporters, Anna Politkovskaya brought forward human truths that rewrote the official story. We will continue to read her, and learn from her, for years."
—Salman Rushdie

Saturday, Apr 16, 2011
In 2006, Anna Politkovskaya was shot dead in the elevator of her apartment block in Moscow. She was perhaps the most famous journalist in Russia, vividly reporting on the brutalities of the war in Chechnya and the intricacies of government corruption. Host Scott Simon talks with Politkovskaya's sister, Elena Kudimova, about the final writings of her sister, which appear in the collection, Is Journalism Worth Dying For? More at NPR.org