One Man, One Murder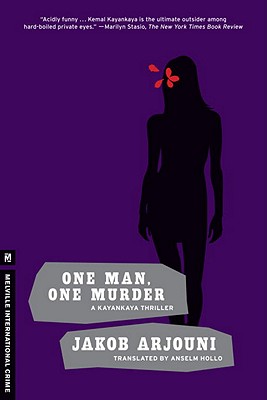 One Man, One Murder
Melville House Publishing, Paperback, 9781935554547, 171pp.
Publication Date: June 7, 2011
* Individual store prices may vary.
Buy Now
or
Shop Local
Enter your zip code below to purchase from an indie close to you.
Description
Kemal Kayankaya is the ultimate outsider among hard-boiled private eyes.
Marilyn Stasio, "The New York Times Book Review
"OVER 1 MILLION COPIES SOLD WORLDWIDE
To rescue a kidnapped prostitute, Kemal Kayankaya must face some of Germany's most depraved and dangerous criminals. Fortunately, some of them are his friends...
Love is never easy especially when your girlfriend is an illegal Thai prostitute who has been kidnapped (again) by a gang of sex traffickers. Fortunately for the hapless fiance, wisecracking gumshoe Kemal Kayankaya is on the case. The son of a Turkish garbage collector, he knows a thing or two about living in the ethnic fringes of the ugliest German city of them all: Frankfurt.
Kayankaya plunges into the city's underbelly, where the police don t care if you live or die, and the powerful view an illegal alien as just another paycheck. One Man, One Murder populates its pages with unforgettable characters, whip-smart dialogue, and a connoisseur's collection of grim details. But it is Arjouni's dead-on description of contemporary Europe's racial politics, vacuous nationalism, and so- cial injustice that make his novels rise above the rest.
About the Author
Jakob Arjouni has written novels, plays, screenplays, and the Kemal Kayankaya mystery series. His other publications include his urban novel "Magic Hoffmann", which was shortlisted for the IMPAC Award, and the story collections "Ein Freund" and "Idiots: Five Fairy Tales and Other Stories". Arjouni divides his time between Germany and France.

Anselm Hollo is the author of more than thirty books, not including his literary translations. His work has been widely anthologized and translated into Finnish, French, German, Swedish, and Hungarian. He has received a NEA Fellowship, two grants from The Fund for Poetry, the Government of Finland's Distinguished Foreign Translator's Award, The San Francisco Poetry Center's Book Award, and The Academy of American Poets' Translation Prize. He teaches at Naropa University in Boulder, Colorado.
Praise For One Man, One Murder…
Praise for One Man, One Murder
 
"Kemal Kayankaya is the ultimate outsider among hard-boiled private eyes." —Marilyn Stasio, The New York Times Book Review
 
"A zippy, deliciously dirty tour of legal fleshpots and low-down scams victimizing illegal aliens . . . Plotted with verve and written with passion." —Kirkus Reviews
 
"The book is as hard-boiled as private eye stories come." —The Toronto Star

Praise for Kismet
 
"As winning a noirish gumshoe as has swooped onto the mystery scene in some time." —Richard Lipez, The Washington Post
 
"In the emphasis on action and quck-jab dialogue, readers will notice an echo of James M. Cain and Raymond Chandler, but Arjouni's stories also brim with the absurd humor that made The Sopranos so entertaining." —Vikas Turakhia, The Plain Dealer (Cleveland)
 
"Jakob Arjouni's downbeat detective Kemel Kayankaya has proved as enigmatic as Columbo, as erudite as Marlowe and occasionally, as crazed as Hammett's Continental Op . . . Arjouni forges both a gripping caper and a haunting indictment of the madness of nationalism, illuminated by brilliant use of language: magnificent." —The Guardian
 
"This lively, gripping book sets a high standard for the crime novel as the best of modern literature." —The Independent 
 
"With its snappy dialogue and rumpled heroes, Arjouni's crime fiction owes an obvious debt to American noir but it is equally reminiscent of many Eastern European satirical novels.  The plot of Kismet may recall any number of gangster romps, but the society so caustically depicted here is as recognizable as that conjured up, for instance, by Jaroslav Hasek in The Good Soldier Schweik." —Anna Mudow, The Barnes & Noble Review
 
"Re-imagines the dull capital of the German financial industry as an urban hell where minority groups and crime bosses prey on one another with ruthless abandon." —The Daily Beast
 
"If you like your investigators tough and sassy, Kayankaya is your guide." —The Sunday Times (London) 
 
"This is true hardboiled detective fiction, realistic, violent and occasionally funny, with a hero who lives up to the best traditions of the genre." —The Daily Telegraph
 
Praise for Happy Birthday, Turk!
 
"The greatest German mystery since World War II." —Süddeutsche (Germany)
 
International Praise for Jacob Arjouni's Kayankaya novels
 
"A worthy grandson of Marlowe and Spade." —Der Stern (Germany)
 
"Jakob Arjouni writes the best urban thrillers since Raymond Chandler." —Tempo (UK)
 
"A genuine storyteller who beguiles his readers without the need of tricks." —L'Unità (Italy)
 
"Arjouni is a master of authentic background descriptions and an original story teller." —SonntagsZeitung (Germany)
 
"Arjouni tells real-life stories, and they virtually never have a happy ending. He tells them so well, with such flexible dialogue and cleverly maintained tension, that it is impossible to put his books down." —El País (Spain)
 
"His virtuosity, humor and feeling for tension are a ray of hope in literature on the other side of the Rhine." —Actuel (France)
 
"Pitch-black noir." —La Depeche (France)