Your Wildest Dreams, Within Reason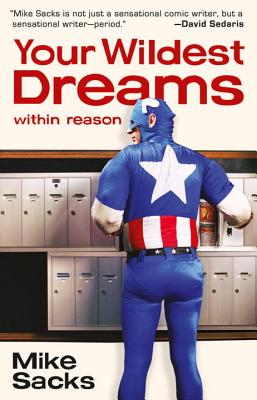 Your Wildest Dreams, Within Reason
Tin House Books, Paperback, 9781935639022, 264pp.
Publication Date: March 1, 2011
* Individual store prices may vary.
Buy at Local Store
Enter your zip code below to purchase from an indie close to you.
or
Not Currently Available for Direct Purchase
Description
Ever accidentally sent a mass email to your office describing your not-safe-for-work fantasy kingdom? Or been confused about the ground rules at a cuddle party? Looking to rent an overpriced room in the Hamptons from a codependent sociopath with a checkered past (and a hot tub)? No? Well . . . huh. "Your Wildest Dreams, Within Reason" collects Mike Sacks's unique humor pieces Craigslist ads, lesser-known tantric positions, letters to famous authors, lists, jokes, and the occasional illustration into one handsome volume. Originally published in "The New Yorker, Vanity Fair, Esquire, " and "McSweeney's, " among other venerable publications, Sacks' writing is original and sharp, yet broadly funny. Whether it's a groom tweeting his wedding in real time, or a publisher offering editorial suggestions for "The Diary of Anne Frank, " Sacks' work tangles contemporary social satire with his absurdist sensibilities.
About the Author
Mike Sacks has written for such publications as "The Believer", "Esquire", "GQ", "Maxim", "McSweeney's", "The New Yorker", "Premiere", "Radar", "Salon", "Time", "Time Out New York", "Vanity Fair", "Vice" and "Women's Health". He has worked at "The Washington Post", and is currently on the editorial staff of "Vanity Fair".
Praise For Your Wildest Dreams, Within Reason…
"Your Wildest Dreams, Within Reason makes you laugh out loud, and at the same time it inspires wonder. 'This is my language?' you'll find yourself thinking. 'Really?' Nowhere else will you read the phrase 'shame spiral eye patch' or find the word 'robot' alongside 'with a bar tending degree.' This is to say that Mike Sacks is not just a sensational comic writer, but a sensational writerperiod.
David Sedaris

"Sacks and his various co-writers are gifted humorists, and it's safe to say that any reader will emit chuckles, guffaws, and chortles on nearly every page."
Booklist

"An enjoyable collection of zaniness."
Kirkus Reviews

Sacks (coauthor of Sex: Our Bodies, Our Junk) offers 54 short humor pieces, including 25 written in collaboration with fellow humor writers Todd Levin, Scott Jacobson, Bob Powers, Jason Roeder, Scott Rothman, Will Tracy, Ted Travelstead, and Teddy Wayne. The essays, many of which were published in McSweeney's and the New Yorker, is a selection of contemporary social satires, such as signs a college is not very prestigious ('Marching band uses only handclaps') and a bridegroom on Twitter ('Attempting to fist-bump rabbi'). The essays include icebreakers to avoid ('This party reminds me of 9/11'); a director's commentary on the DVD rerelease of a 1990 bar mitzvah video; and a rejection letter to Anne Frank: 'Unfortunately, we receive so many unsolicited teenage diaries composed in European attics that it is impossible to publish each one.' Highlighting this often hilarious book are Yu's many illustrations, such as the inclusion of Pynchon's muted post horn, and Sancton's 10 drawings depicting 'Everyday Tantric Positions' as well as an eight-page pantomime comic strip from Esquire about frustrating Ikea assembly instructions."
Publishers Weekly

Smart and silly . . . Sacks particularly excels at literary satire . . ."
NPR

The pieces in Mike Sacks's Your Wildest Dreams Within Reason succeed on tight, comedic premises . . . enjoying them together gives the reader a deeper understanding of Sacks's delight in the mundane."
Time Out New York

If words strung together in a humorous manner are something you enjoy, put your eyes on this little beauty."Maxim

Laugh-out-loud" VF Daily

"Reliably funny."
Portland Mercury

One of the funniest books I've read in a long time . . . the pastiche, the parody, the absurd vignette, the comic list Sacks can do it all."
Spiked Online

"Brilliantly deadpan and somewhat pathological pieces. . ."
LA Weekly

His playful approach to reality could fill a thousand pages and still be fresh and funny."
Blog Critics

The fun in Your Wildest Dreams is watching Sacks unpack his weirdness, and there's plenty of weirdness to unpack."The A.V. Club

Mike is a brilliant and hilarious writer."Comedy Central Insider

There are lines in this book so inexplicably funny, I wouldn't dare try to impose any logic upon their mechanics . . . in a single book, Sacks manages to casually allude to numerous philosophers and high-fallutin, authors and credibly pull-off the occasional poop joke." Splitsider

Had me laughing out loud on the 7 train . . .suffice to say Mike Sacks is my type of humor."Ron Hogan, Beatrice.com

There is no over-arching theme to these short pieces other than the fact that they are all laugh-out-loud/piss-yourself-funny." Dangerous Minds

[Mike Sacks is a] comedic brick shithouse."
Viceland.com

[Sacks] delights in imagining the world much funnier than most of us. His playful approach to reality could fill a thousand pages and still be fresh and funny . . . the laughs roll off the page."
Blogcritics.org

A hugely eclectic and highly original collection."Stefan Sirucek, The Huffington Post

If you're not prudish about a bit of crass humor and appreciate intelligent comedy bordering on the ridiculous, then Your Wildest Dreams, Within Reason is a definite must-read."TheWannabeLiterati.com

If you don t mind getting made fun of, Mike Sacks's Your Wildest Dreams, Within Reason is for you."TheMillions.com

"Any book that has funny jokes about porno, robots and Shaft has to be good. And this one is."
Jack Handey

"Mike Sacks rehabilitated me from a deep, dark depression. I nursed from his teet, followed his gentle wisdom, and now I'm doing much better. Book's good, too."
Eric Wareheim, Tim & Eric Awesome Show, Great Job!

"This humor collection is packed with winners. In one of my many favorites, 'The Rejection of Anne Frank,' a publisher slams the 15-year-old girl's diary for trailing off at the end. What more do you want, America? Mike Sacks is hilarious, unique and possibly crazy. You should definitely buy his book, or at the very least, steal it from somewhere."
Simon Rich, writer for Saturday Night Live; author Ant Farm: And Other Desperate Situations, Free Range Chickens, and Elliot Allagash

"This book is super funny but also very human, which is my favorite kind of comedy. Mike Sacks is a very smart and talented guy. Now if he'd just pay me back that money he owes me."
Paul Feig, creator Freaks and Geeks; author Kick Me: Adventures in Adolescence and Superstud: Or How I Became a 24-Year-Old Virgin

"In the world of humor writing, a Mike Sacks story is a must read. Sacks's stories walk the fine line between clever and ridiculous. Not quite high-brow or low-brow, but more upper middle-brow. They shop at Whole Foods, but still go to Dunkin' Donuts. In short, his stories make us want to buy inordinately priced organic produce and fried dough. If this does not make him a national treasure than we must redefine the meaning of the term."
Christopher Monks, editor McSweeneys.net

"Though many people continue to believe that Mike Sacks is little more than a nonexistent cryptid, like Bigfoot or the Loch Ness Monster, this book proves once and for all that he is real. And that he is brilliant. And if you walk around with this book in your hands, people will think you're brilliant!"
Jason Eaton, author The Facttracker

"Sacks has an uncanny ability to see through the b.s. of modern life into what really makes us tick. Which would be depressing as hell, if it weren't so funny."
Sam Means, writer, The Daily Show and A Practical Guide to Racism

"'A blurb,' as Mike Sacks explains in his book, is 'a glowing remark on the back cover written by an author or TV chef.' Here's my glowing remark: This is a very, very funny book."
AJ Jacobs, contributing author, Esquire; author The Guinea Pig Diaries and The Year of Living Biblically

"The funniest book since Woody Allen's Without Feathers, without nearly as many references to the Talmud."
Dana Brown, Vanity Fair magazine

"In Your Wildest Dreams, Mike Sacks claims one of the worst places to die is 'on a toiletreading this book,' but I would be proud to have anyone discover my body clutching this hilarious volume, as long as I had flushed first."
Mike Sweeney, head writer Late Night with Conan O'Brien, Tonight Show with Conan O'Brien, The Conan O'Brien Show

"Your Wildest Dreams, Within Reason is an eclectic treasure of humor, and the ludicrous suggestion that a pretty blonde would work at Gray's Papaya."
Brian Sack, author In the Event of My Untimely Demise and Party Pooper

"Mike Sacks takes on the narration personae of the hapless, the moronic, the pathetic, and the administratively-inclined in order to save comedic prose, yes, but more importantly to make you laugh in that twitchy, awkward way that is hugely sincere, but also unbecoming on the subway."
Julie Klausner, writer for Best Week Ever with Paul F. Tompkins and Robert Smigel's TV Funhouse; author of I Don't Care About Your Band

"Sacks's wit isn't just razor sharpit'sas sharp as the tool that a mohel brings to a circumcision. And it's just as likely to leave its beneficiary gasping for air . . . and, for some reason, lox."
Rob Kutner, writer The Daily Show, Tonight Show with Conan O'Brien; author, Apocalypse How: Turn the End Times into the Best of Times!

"Laughter can be found on nearly every page of this collection. Except, of course, for page 87. There is nothing on that page but unflagging horror and despair."
Dan Guterman, head writer, The Onion

"With Your Wildest Dreams, Mike Sacks proves himself to be one of today's best humor writers. He also proves himself to be completely and utterly out of his mind. Seriously, I don't want this guy anywhere near me or any of my stuff."
Jon Wurster, The Best Show on WFMU

"Like most comedy savants, Mike Sacks knows too much about the human condition to interact with us. Seriously, if fate puts you anywhere near this guy, steer clear. Read this book instead. It's sharp, knowing and laugh-out-loud funnyand, unlike Mike, not hazardous to your health. "
Frank DiGiacomo, the only person in The Aristocrats who didn't get a single laugh.

"I would call Mike Sacks's Your Wildest Dreams, Within Reason, a fantastic bathroom read, but no one should ever laugh that hard in a bathroom. That would be like something out of a Mike Sacks piece. A great, great collection."
Chris Regan, co-author America (The Book); author Mass Historia:
365 Days of Historical Facts and (Mostly) Fictions

"Why surf the web for hours trying (unsucesfully) to find something funny, when you can just pick up this book and surf Mike Sacks' brilliant brain? Funny tweets, texts, stories, lists, confessions, rules, and even dirty pictures... all between these two covers, with no cookies or pop-ups."
David Miner, Producer, Manager, and Partner at 3 Arts Entertainment