The Tiny Mouse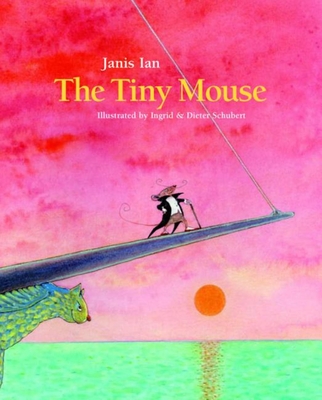 The Tiny Mouse
Lemniscaat USA, Hardcover, 9781935954309, 32pp.
Publication Date: September 2013
* Individual store prices may vary.
Shop Local
Enter your zip code below to find indies closest to you.
Description
A songwriter since she wrote "Society's Child" at the age of 14 and a Grammy winner for "At Seventeen," Janis Ian's charming and witty song has now become a picture book illustrated by Ingrid and Dieter Schubert.
Janis wrote The Tiny Mouse for The Boat Project - a collaborative endeavor for which people donated wood, stories and songs that were made into a fantastical thirty-foot vessel that was part of the London's Olympics.
The Tiny Mouse follows the adventures of a bored mouse who decides to go to sea and narrowly escapes a grisly death. In his moment of truth, he understands that it's better to be a whole mouse at home than someone's dinner at sea. This book and CD set has not only Janis Ian singing "The Tiny Mouse" with a full band but also a version without vocals for singalong fun. A complete transcription for piano and guitar is also included.
Ingrid & Dieter Schubert, creators of The Umbrella and many other picture books, give the tiny mouse his dapper and affable appearance and bring his perilous adventures to life with plenty of sly humor.
About the Author
Janis Ian began her career as a singer-songwriter in the 1960s with "Society's Child." In 1975, she won her first Grammy Award for the self-penned song, "At Seventeen" . Since then she has had #1 hits all over the world, sold more than 10 million albums, and had her songs recorded by such diverse artists as Bette Midler, Roberta Flack, and John Mellencamp. She shows no signs of slowing down, recently beginning yet another career as an audio book narrator (which earned her a ninth nomination and second Grammy in 2013 for Society's Child: My Autobiography). Among her current projects are The Tiny Mouse, her first children's book; a series of master classes with the Stella Adler School; tours of Europe, the United Kingdom, and Japan, a young adult novel, and a series of new recordings.



INGRID (1953) and DIETER (1947) SCHUBERT were born in Germany. After the Academy of Design in Munster and the Academy of Art in Dusseldorf they went to the Gerrit Rietveld Academy in Amsterdam. Their many books for children are available in 21 languages. Their work has been exhibited all over the world. This illustrating couple is extremely popular with parents and children alike because of their skill in watercolors and keen eye for witty detail.