Everything Begins & Ends at the Kentucky Club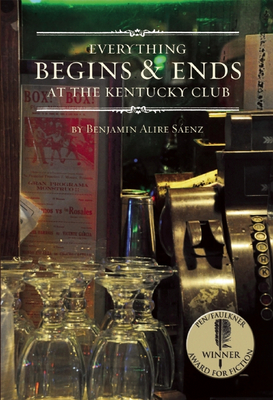 Everything Begins & Ends at the Kentucky Club
Cinco Puntos Press, Paperback, 9781935955320, 222pp.
Publication Date: October 2012
* Individual store prices may vary.
Shop Local
Enter your zip code below to find indies closest to you.
Description
Sometimes the border is a mirror, sometimes an escape, and sometimes it's just the bridge you cross to go home.
About the Author
Benjamin Alire Saenz is a novelist, poet, essayist and writer of children's books. He has received the Wallace Stegner Fellowship, the Lannan Fellowship and an American Book Award. He teaches at the University of Texas at El Paso, and considers himself a fronterizo, a person of the border.
Praise For Everything Begins & Ends at the Kentucky Club…
"Sáenz's moving collection of short stories hinges on the intergenerational clientele of the titular borderland watering hole just south of the U.S.-Mexican divide on Avenida Juárezthere's much to enjoy in these gritty, heartfelt stories. Publishers Weekly

"Seven excellent stories [by] a versatile writer Sàenz writes prose that is tender, occasionally fierce, and always engaging. Read every word of his stories lest you miss some clever twist, some subtle irony, some gentle nuance of poetic imagery that he has labored to create." Booklist

"Though the prolific Benjamin Alire Sáenz has been writing books in every genre for the past two decades, Everything Begins and Ends at the Kentucky Club is only his second short-story collection. But the wait was definitely worth it [The story "He Has Gone to Be with the Women"] is nothing short of a masterpiece In one story, a school counselor says the following about his troubled charges: "They came to me with a thirst in their eyes, a thirst, such a thirst and I knew that I could never give them the rain they deserved, the rain they so desperately needed." That might as well be The Kentucky Club speaking, since every protagonist in this heartbreaking collection of stories finds his way to a confession stool at the bar. They find no solutions to their ills, just a sensitive ear that has heard it all before but is willing to listen once again." Rigoberto González, former president of the executive board of directors of the National Book Critics Circle, special to the El Paso Times
Tuesday, Apr 30, 2013
Benjamin Alire Saenz won this year's PEN/Faulkner award for his latest collection of short stories, Everything Begins and Ends at the Kentucky Club. The real-life Kentucky Club is just south of the U.S.-Mexico border, and Saenz joined a reporter there to talk about life in two countries. More at NPR.org