The Dead Detective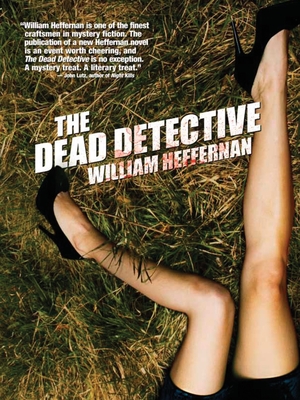 The Dead Detective
Akashic Books, Hardcover, 9781936070619, 319pp.
Publication Date: September 21, 2010
* Individual store prices may vary.
Buy at Local Store
Enter your zip code below to purchase from an indie close to you.
or
Buy Here
Description
""The Dead Detective" is William Heffernan's first novel in seven years, and wherever he's been, he hasn t forgotten how to write a good, gritty police procedural . . . This edgy police drama succeeds in capturing the hysteria the grips Tampa residents when a celebrity criminal . . . is found dead in a cyprus swamp with her throat cut and the word Evil carved into her forehead."
--"New York Times Book Review"
"The Dead Detective" is a meaty story that offers an intriguing and conflicted protagonist, a darkly fascinating victim, solid police procedural detail, a knowing look at the Tampa Bay area and its politics, an unlikely murderer, and a creepy denouement that hints that Harry protagonist] will be back.
--"Booklist"
"In his first new novel in seven years . . . Heffernan delivers a readable, tidy police procedural that echoes any number of popular television series, from The Mentalist to Criminal Minds, whose many fans will find this series debut enjoyable."
--"Library Journal"
"After a lengthy hiatus, Edgar-winner Heffernan makes a welcome return ... Tough, troubled Harry Doyle will keep readers in line."
--"Kirkus Reviews"
"Heffernan is a master of scene, setting, characterizations, plot, and dialogue."
--Nelson DeMille
Harry Doyle was murdered as a ten-year-old child and brought back to life by two Tampa cops. Twenty years later he has dedicated his life to putting killers behind bars as a homicide detective who has the unwanted ability to hear the postmortem whispers of murder victims. Dubbed "The Dead Detective" by his fellow cops, Doyle now faces his most difficult case--a beautiful murder victim who was a notorious child molester. It is a case that will shake Harry to his very core.
WILLIAM HEFFERNAN, a three-time Pulitzer Prize nominee, is the author of fifteen novels, including such bestsellers as The Corsican and The Dinosaur Club (a New York Times bestseller).
About the Author
William Heffernan won the 1996 Edgar Allan Poe Award for his novel Tarnished Blue. He is the author of eleven novels, including the international best-sellers The Corsican, Ritual, Blood Rose, and Corsican Honor. His novel The Dinosaur Club was a New York Times bestseller and is in development at Warner Bros. to become a motion picture. A former reporter for The New York Daily News, he lives in Huntington, Vermont, with his wife and three sons.
Praise For The Dead Detective…
"We have a feeling that Heffernan is setting us up for more dead detective novels, which we welcome like the zealots we are."
--Time Out Chicago