The Art of the Illusion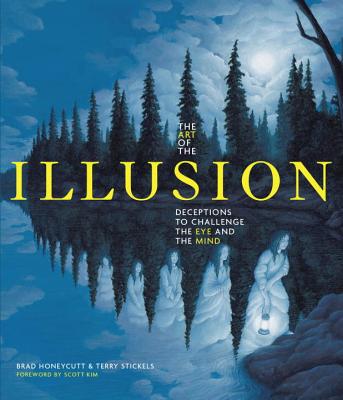 The Art of the Illusion
Deceptions to Challenge the Eye and the Mind
Imagine Publishing, Hardcover, 9781936140718, 224pp.
Publication Date: July 1, 2012
* Individual store prices may vary.
Buy at Local Store
Enter your zip code below to purchase from an indie close to you.
or
Buy Here
Description
Optical illusions intrigue the mind and delight the eye. Viewers try to perceive the visual shifts in a two-dimensional picture, but can't understand how a single still image can be so animated and rich. While even the simplest illusions please, this stunning volume goes far beyond the usual collection. Compiled by visual graphics expert Brad Honeycutt and puzzle master Terry Stickels--and featuring a foreword by renowned puzzle creator, computer game designer, and artist Scott Kim--this collection showcases over two hundred of the finest images from around the world. From Rafal Olbinski, Rob Gonsalves, and Octavio Ocampo to David Macdonald, Gene Levine, and M. C. Escher, THE ART OF THE ILLUSION covers the visual spectrum, from the most classic optical illusions to complex graphic and painterly designs that transform the impossible into believable. There are famous paintings, dazzling photographs, and amazing computer-enhanced eye treats that will make you look and look again. There's "Zipper Beach" with gulls zipping over the sands, "Table Top Towers" where a tower of blocks seems to meld into a city skyline, a librarian whose body is literally composed of books, and so many more astounding pieces. This is a must-have for those who already love optical illusions and those just discovering the wonders of the art.
About the Author
Brad Honeycutt graduated from Michigan State University with high honours and is a web developer, author and optical illusion enthusiast. He is the co-author of The Art of the Illusion: Deceptions to Challenge the Eye and the Mind (July 2012) and author of Exceptional Eye Tricks (February 2013). Brad currently operates www.anopticalillusion.com, a website updated with a new optical illusion every weekday.
Terry Stickels is one of the foremost puzzle creators in the world. In addition to his King Features syndicated puzzle, "Stickelers [sic]", he also creates "Frame Games" puzzles and "Stickdoku" puzzles for USA Weekend. He is the author of more than a dozen books including "The Little Bathroom Book of Sudoku", "The Little Bathroom Book of Kakuro", and "The Big Book of Stickelers" from Fair Winds Press. He resides in Fort Worth, Texas.
Will Shortz, Crossword Editor for "The New York Times" proclaims that "Terry Stickels' puzzles are perfect brain stimulators for young and old alike and they build problem-solving skills that are useful both academically and in everyday life." Visit his website at www.terrystickels.com
Scott Kim, a contributor to "Games" and "Discover" magazines, is an independent designer of visual puzzles and games for the Web, computer games, and toys, as well as the author of the "Amazing Mind Benders Page-A-Day Calendar" from 2005 to 2013. He has a Ph.D. in Computers and Graphic Design from Stanford and lives in Santa Monica, California.