Go! Games Absolutely Addictive Sudoku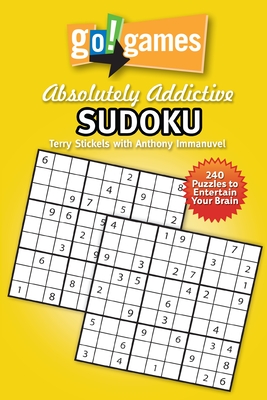 Go! Games Absolutely Addictive Sudoku
Imagine Publishing, Paperback, 9781936140893, 288pp.
Publication Date: February 1, 2013
* Individual store prices may vary.
Buy Now
or
Shop Local
Enter your zip code below to purchase from an indie close to you.
Description
Ever since sudoku burst onto the scene, solvers found it irresistible. They grabbed any variant they could find and hungrily tested their skills. Well, now we re upping the ante with 240 new, fabulous and sometimes wildly innovative sudoku, and fans beware: once you start solving, you won t be able to stop Give your brain a good workout, but not so impossible that you ll get frustrated. They come in a variety of levels, so even if you re a relative beginner, you can work your way up to the hardest "Big Mind Challenge" selection. To help you, there's an excellent introductory section with tips and techniques.
They re fun, they re entertaining, they re ABSOLUTELY ADDICTIVE
About the Author
Terry Stickels is one of the foremost puzzle creators in the world. In addition to his King Features syndicated puzzle, "Stickelers [sic]", he also creates "Frame Games" puzzles and "Stickdoku" puzzles for USA Weekend. He is the author of more than a dozen books including "The Little Bathroom Book of Sudoku", "The Little Bathroom Book of Kakuro", and "The Big Book of Stickelers" from Fair Winds Press. He resides in Fort Worth, Texas.
Will Shortz, Crossword Editor for "The New York Times" proclaims that "Terry Stickels' puzzles are perfect brain stimulators for young and old alike and they build problem-solving skills that are useful both academically and in everyday life." Visit his website at www.terrystickels.com