Mission Street Food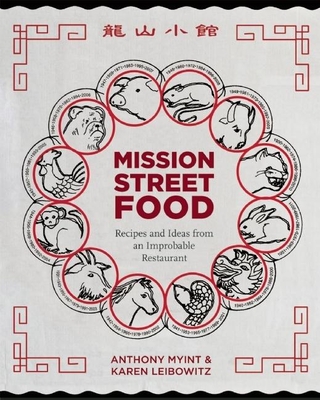 Mission Street Food
Recipes and Ideas from an Improbable Restaurant
McSweeney's, Hardcover, 9781936365159, 224pp.
Publication Date: August 23, 2011
* Individual store prices may vary.
Buy at Local Store
Enter your zip code below to purchase from an indie close to you.
or
Buy Here
Description
Mission Street Food is a restaurant. But it's also a charitable organization, a taco truck, a burger stand, and a clubhouse for inventive cooks tucked inside an unassuming Chinese take-out place. In all its various incarnations, it upends traditional restaurant conventions, in search of moral and culinary satisfaction.

Like Mission Street Food itself, this book is more than one thing: it's a cookbook featuring step-by-step photography and sly commentary, but it's also the memoir of a madcap project that redefined the authors' marriage and a city's food scene. Along with stories and recipes, you'll find an idealistic business plan, a cheeky manifesto, and thoughtful essays on issues ranging from food pantries to fried chicken. Plus, a comic.

Ultimately, Mission Street Food: Recipes and Ideas from an Improbable Restaurant presents an iconoclastic vision of cooking and eating in twenty-first century America.
Praise For Mission Street Food…
A 2011 NEW YORK TIMES NOTABLE COOKBOOK
ONE OF BON APPETIT'S BEST COOKBOOKS OF 2011

"[Mission Street Food] recounts how a sui generis pop-up in a Guatemalan taco truck in San Francisco led, as these things will, to a sui generis pop-up in a Chinese restaurant in San Francisco. In fact, the whole project is sui generis, including the cookbook portion of this volume. The recipes provide not just serving sizes but approximate cost, and are laid out comic-strip style, with photo panels illustrating each step. There's even a photograph of what mayonnaise looks like when the emulsion breaks, and what to do next."
Pete Wells, New York Times

"Hey, let's make a restaurant! That's just what Anthony and Karen did. They made history with their food cart/borrowed restaurant space, becoming both one of the country's earliest pop-ups and an experiment in culinary hospitality with a social mission. The cookbook is equally inspiring and is peppered with tasty recipes."
Don and Samantha Lindgren, Bon Appetit

"A fun read, the food photography is alluring, and it's nice to see a bit of life breathed into the traditional cookbook format."
The New Yorker

"Speaks to a lively time in San Francisco's food scene and it's an entertaining read and certainly on-trendif not trend setting. Which is what Mission Street Food, in all its guises, has been since the start."
7x7

"We are lucky to have Myint and the Mission Street crew's visions among us and such a book to capture the experience."
San Francisco Bay Guardian

"Let's get right to the point: Mission Street Food: Recipes and Ideas from an Improbable Restaurant by Anthony Myint and Karen Leibowitz is awesome. Awesome. And by that I mean: a smart, funny and incredibly inspiring read that is aesthetically pleasing, feels good in the hands and has a recipe for one of the easiest and tastiest desserts I have ever prepared: white bread, spread with butter and sugar, run under the broiler (or blow-torch) until it is brown and bubbly, and served in a pool of condensed milk and cream."
Montreal Mirror

An amazing story. An amazing institution. And now a book that's as creative and pioneering as its subjects. Let us hope that Mission Street Food's uniquely American success story points the way to a brighterand delightfully strangerfuture."
Anthony Bourdain

Mission Street Food is an uncommonly generous read. When I finished it, I felt like I'd drained a cold can of beer at the end of a shift at the restaurant. The interplay of narrative, design, and photography is more compelling and candid than any food book I've ever seen; the focus on fundamental techniques and how to think in the kitchen is more truthful, accurate, and contemporary than almost any basic cookbook; in fact, the whole packagepowered by the exuberance of Anthony Myint and Karen Leibowitzis infectious, inspiring, something apart from the rest. This is a special book."
Peter Meehan, co-author of Momofuku