Symphony City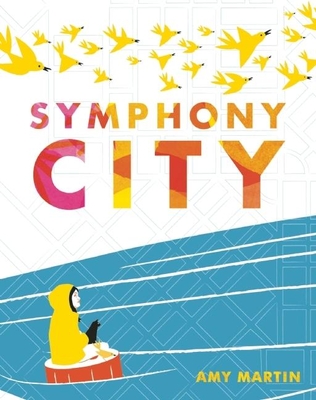 Symphony City
McSweeney's Books, Hardcover, 9781936365395, 48pp.
Publication Date: July 2011
* Individual store prices may vary.
Shop Local
Enter your zip code below to find indies closest to you.
Description
In Symphony City, a young girl, lost in a big city, makes her way home by following the rich and vibrant music of the streets. Bursting with bright colors and narrated in lively, staccato phrases, Amy Martin's debut children's book is at once a sweeping page-turner and a book that makes you want to stop and pore over every page.

Symphony City is an exciting adventure story for children and parents who love music, art, and big imagination. As a special bonus, the dust-jacket unfolds into a giant two-sided poster, suitable for extended gazing.
About the Author
Amy Martin wrote and illustrated her first book at the age of ten and gave it to her fourth grade teacher, who hopefully lost it in her house somewhere and didn't share it with anyone else. The first book she published as a grown-up, In Your Dreams, was a semi-finalist in the Young Adult category of the 2012 Amazon Breakthrough Novel Award competition. There are currently three books in the In Your Dreams series (In Your Dreams, As You Wake, and Before You Sleep) with a fourth and final book to be released in 2014. Amy currently lives in Lexington, KY with her husband and a ferocious attack tabby named Cleo. When not writing or reading, she can usually be found watching sports, drinking coffee, or indulging her crippling Twitter habit (and, sometimes, doing all three at once).
Praise For Symphony City…
Winner of the 2012 Marion Vannett Ridgway Honor Award!

"Martin, in her children's book debut, delivers images of meditative calm; in each spread, blocks of translucent color fill in the background, leaving the contours of the pictures' subjectshands playing instruments, bodies, buildingsoutlined by the white space that remains. Martin succeeds in capturing a world of sound using only visual cues."
Publisher's Weekly

"Dazzling cityscapes and 19 cats to count make this a captivating read for all ages."
San Francisco Chronicle

"Amy Martin masters the use of color to denote emotion This book will be treasured in one's family library, especially by music loving urbanites, and further, passed on for generations. Symphony City encapsulates the emotive experience of listening to and playing music, a feat as it stands, but also demonstrates the power music wields to soothe, nurture, and even bring someone, in a sense, home."
Seattle Post-Intelligencer