Takeover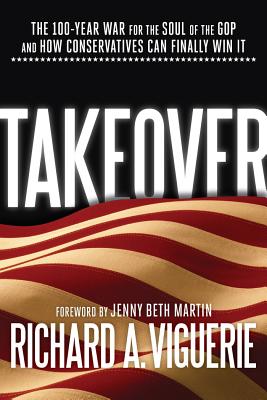 Takeover
The 100-Year War for the Soul of the GOP and How Conservatives Can Finally Win It
WND Books, Hardcover, 9781936488544, 368pp.
Publication Date: April 8, 2014
* Individual store prices may vary.
Buy at Local Store
Enter your zip code below to purchase from an indie close to you.
or
Buy Here
Description
One hundred and two years ago Teddy Roosevelt split the Republican Party to advance his progressive agenda. Progressivism, or Big Government Republicanism, became the philosophy of the Republican Party's establishment elite. Fifty years ago conservatives began a battle for control of the party. Now is the time for conservatives to finish the job and take back the Republican Party. All national polls show that the American people self-identify as conservatives by a margin of 2 to 1 or more. Despite the scandals surrounding the White House, the outrageous failure of ObamaCare, and the lack of leadership from Congress, the Republican Party has failed to win key elections because it has failed to deliver on its promises to roll back the tide of Big Government. In Takeover, prominent Republican strategist and fundraiser Richard Viguerie outlines the way to establish limited government constitutional conservatism as the governing philosophy of the Republican Party and sanity back to Congress and the White House. Viguerie details the storied history of the battle for the soul of Republican Party and offers practical advice and outlines the steps necessary for conservatives to win the civil war in the GOP and govern America by 2017.
About the Author
Richard A. Viguerie, called the conservatives' Voice of America, transformed American politics in the 1960s and '70s. Through his pioneering use of direct mail Viguerie broke the left's monopoly on the country's microphones, gave the conservatives a voice through the new and alternative media of direct mail, broke the power of large donors by empowering millions of small donors to back the candidates and causes of their choice. His pioneering techniques helped elect Ronald Reagan as the first conservative president of the modern era. Often called the Funding Father of the conservative movement, Viguerie's advertising firm has mailed more than 3 billion letters and raised over $7 billion over the past 50 years. He is the chairman of ConservativeHQ.com and author of Conservatives Betrayed: How George W. Bush and Other Big Government Republicans Hijacked the Conservative Cause.

Mark Meckler and Jenny Beth Martin are the co-founders and national organizers of the Tea Party Patriots, Inc. They have appeared as commentators and have been interviewed on ABC, CBS, PBS, BBC, NPR, Fox News, and CNN. Most recently, Time magazine named Martin the fifteenth most influential world leader of 2010.