The America's Test Kitchen Do-It-Yourself Cookbook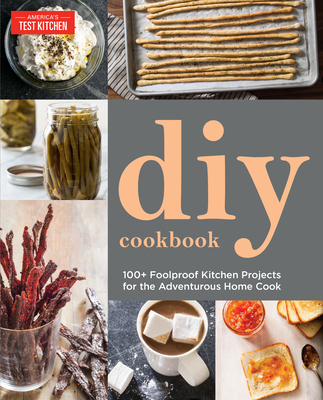 The America's Test Kitchen Do-It-Yourself Cookbook
100+ Foolproof Kitchen Projects for the Adventurous Home Cook
America's Test Kitchen, Paperback, 9781936493081, 360pp.
Publication Date: October 12, 2012
* Individual store prices may vary.
Buy Now
or
Shop Local
Enter your zip code below to purchase from an indie close to you.
Description
Why buy it when you can make it?
From smoked bacon and dill pickles to your own home-brewed ale, trust the test kitchen experts to guide you through more than 100 foolproof kitchen projects. Pantry Staples For the freshest, best results, make your own ketchup, hot sauce, and vanilla extract. For the adventurous, there's sriracha, harissa, and wine vinegar. Jams and Jellies Preserve the seasons with orange marmalade, strawberry jam, and apple butter, while wine jelly and bacon jam are great year-round options. Pickled Favorites Get your pickle fix with classics like bread-and-butters and sour dills, plus test kitchen favorites like dilly beans, giardiniera, and kimchi. The Dairy Best Making fresh cheeses like ricotta and goat cheese, churning butter, preparing yogurt, and even making soy milk (for tofu) are simpler than you think. Charcuterie at home From artisanal pancetta, prosciutto, pates, and terrines to everyday favorites like bacon, chorizo, and beef jerky, our recipes have the carnivore covered. Snacks and Sweets Make store-bought favorites like rich buttery crackers, marshmallows, and graham crackers fresher and better. Or take the fancier route with lavash crackers, grissini, salted caramels, and chocolate-hazelnut spread. Beverages Stock your fridge with root beer, ginger beer, and cold-brew coffee. Stock your bar with sweet vermouth, cocktail bitters, and tonic water. Plus, our IPA beer recipe is ideal for first-time home brewers.
About the Author
America's Test Kitchen is a real place: a no-nonsense, fully equipped test kitchen located just outside Boston, MA, where a team of highly qualified test cooks and editors perform thousands of tests every year. The goal? To develop the best recipes and cooking techniques, recommend the best cookware and equipment, and rate brand-name pantry staples for home cooks. America's Test Kitchen is devoted to a collegial approach to cooking?teams of editors, writers, and cooks engage in side-by-side comparisons, blind taste tests, and rigorous equipment performance tests to determine which pans work and which ones don?t, which brand of ketchup tastes best, and so on. America's Test Kitchen accepts no advertising. We are a private company with no affiliations with large publishers, cookware manufacturers, or food purveyors, which means that our content is unbiased and objective.