The Complete Cooking for Two Cookbook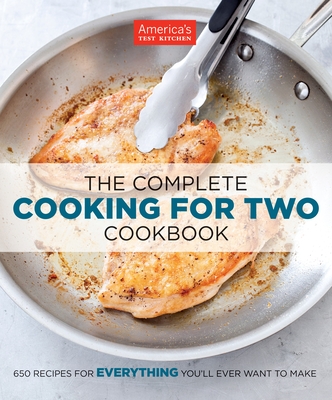 The Complete Cooking for Two Cookbook
650 Recipes for Everything You'll Ever Want to Make
America's Test Kitchen, Paperback, 9781936493838, 440pp.
Publication Date: March 15, 2014
* Individual store prices may vary.
Buy Now
or
Shop Local
Enter your zip code below to purchase from an indie close to you.
Description
50 Recipes forEVERYTHINGYou'll Ever Want to Make.
Because smaller families shouldn't have to rely on recipes built for four or six, America's Test Kitchen has reengineered 650 of our best recipes to serve just two. Over the years we've discovered that scaling down a recipe isn't as simple as cutting the ingredients in half cooking times, temperatures, and equipment need to be adapted as well. This comprehensive cookbook takes the guesswork out of cooking for two so you can be sure that anything you want to make from Classic Beef Stew to Lasagna to a mini batch of Fudgy Brownies or a Fluffy Yellow Layer Cake will come out right (and perfectly proportioned) every time. We'll also give you options when you're short on time. 150 recipes, including Chicken Saltimbocca and Pan-Seared Rib-Eye Steaks with Sweet-Tart Red Wine Sauce, can be on the table in 30 minutes or less. For those times when you want healthier fare, we've provided more than 100 recipes labeled "Light" such as Provencal Vegetable Soup and Poached Shrimp Salad with Avocado and Grapefruit, each with nutritional information listed in an easy-to-read chart in the back of the book. And we include chapters on for-two slow cooking, grilling, and baking pies, quick breads, cakes, and cookies. A 25-page manual teaches the basics of cooking for two, including clever shopping strategies to reduce waste, smart storage tricks help extend freshness of key ingredients, and our picks for the most useful kitchen equipment for any two-person household.
About the Author
America's Test Kitchen is a real place: a no-nonsense, fully equipped test kitchen located just outside Boston, MA, where a team of highly qualified test cooks and editors perform thousands of tests every year. The goal? To develop the best recipes and cooking techniques, recommend the best cookware and equipment, and rate brand-name pantry staples for home cooks. America's Test Kitchen is devoted to a collegial approach to cooking?teams of editors, writers, and cooks engage in side-by-side comparisons, blind taste tests, and rigorous equipment performance tests to determine which pans work and which ones don?t, which brand of ketchup tastes best, and so on. America's Test Kitchen accepts no advertising. We are a private company with no affiliations with large publishers, cookware manufacturers, or food purveyors, which means that our content is unbiased and objective.