One and Only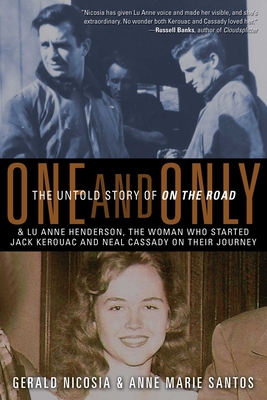 One and Only
The Untold Story of on the Road and Lu Anne Henderson, the Woman Who Started Jack Kerouac and Neal Cassady on Their Jo
Viva Editions, Hardcover, 9781936740048, 244pp.
Publication Date: November 22, 2011
* Individual store prices may vary.
Buy Now
or
Shop Local
Enter your zip code below to purchase from an indie close to you.
Description
Lu Anne Henderson was a beautiful 15-year-old girl in Denver in 1945 when she met Neal, a fast-talking hurricane of male sexuality and vast promises. The two married, and soon they were hanging out with a group of would-be writers, including Jack Kerouac and Allen Ginsberg. Lu Anne became the secret link between Kerouac and Cassady, helping to ignite the Beat Generation, and giving Kerouac material for one of the seminal novels of the 20th century, "On the Road."
Lu Anne Henderson did not live to see the filming of "On the Road" by Walter Salles, but "One and Only" tells how "Twilight s" Kristen Stewart, through her work with both Nicosia and Anne Marie Santos (Lu Anne's daughter), came to find the key to playing Lu Anne in the film.

About the Author
GERALD NICOSIA is the author of "Memory Babe", which won the Distinguished Young Writer Award from the National Society of Arts and Letters while still a work-in-progress. It remains widely regarded as the definitive work on Jack Kerouac. Nicosia lives in Corte Madera, CA.

ANNE MARIE SANTOS, Lu Anne Henderson's daughter, lives in Arlington, VA.
Praise For One and Only…
Most novelists draw from the material of their own lives, few more directly than Jack Kerouac. Now one of his iconic but long-lost characters steps from the covers of On the Road to speak for herself, to present her perspective as a young woman in the late 1940s who knew intimately some of the finest and most controversial writers of her generation. Lu Anne Henderson's own story is the core of One and Only, providing an unflinching examination of the motivations, fears, limitations, and achievements of a young woman who challenged the limitations for women in male-dominated mid-century America. Gerald Nicosia presents a living, breathing human being whose life did not end with the closing pages of Kerouac's novel."
Matt Theado, Chair, English Department, Gardner-Webb University, and author of Understanding Jack Kerouac.

"The transcription of the tapes that we listened to is now a book. Gerry Nicosia put it together and Anne Marie Santos also wrote a little bit in the end. It's called One and Only and it is so important. the book is absolutely amazing."Kristen Stewart on Gerry Nicosia and One and Only

"Celebrated author and Kerouac biographer Gerald Nicosia is the white knight of Beat scholarship, rescuing another damsel from the distress of obscurity, marginalization and an undeserved bad reputation. In his new book he illuminates the life and central importance of Lu Anne Henderson, Mary Lou of On the Road, Neal Cassady's first wife, who largely narrates the book; Nicosia's encyclopedic knowledge and rigorous documentation have enabled him to present what was just a box of cassette tapes as a riveting narrative with much of the drive and most of the action of On the Road, only with actual names and events."
Evergreen Review

"One and Only: The Untold Story of On the Road brings together a set of interviews conducted by the Bay Area writer Gerald Nicosia with Lu Anne over a period of years before her death in 2008. Her oral history of the early Beats is interlaced with reflections on the major players of the age (Kerouac and Allen Ginsberg, most notably), together with further reflections by Lu Anne's daughter; Anne Marie Santos. It provides the Beat aficionado with new information about the private lives of well-known personae."
San Francisco Chronicle

"I think it's a beautifully conceived, edited, and written book, and I'm convinced it is the most important addition to Beat scholarship since Nicosia's Memory Babe."
The Beatnik

"In many ways, it is more sobering than most volumes on Beat history. One telling incident is hopelessness concealed in the question Neal asked Lu Anne, when he finally went quiet and quit acting, Where do we go from here, Babe?""
Beatdom

By the time I reached the last page of her account [Anne Marie's concluding chapter] I was in such a state of heightened emotion I cried. My feelings about One and Only"should be clear by now, after the long weeks we've shared together dissecting it. I think it's a beautifully conceived, edited, and written book, and for the reasons I've already outlined, I'm convinced it is the most important addition to Beat scholarship since Nicosia's Memory Babe."
Wholly Communion Blogspot

"Gerald Nicosia -- preeminent biographer of the Beat Generation and author of Memory Babe -- and Anne Marie Santos -- daughter of LuAnne Henderson -- have joined forces here to tell the back story of Jack Kerouac's On the Road. The result of this rare collaboration is a mesmerizing read. Even if you know nothing about the Beat Generation, Jack Kerouac, his friend Neal Cassaday or their friends, this book will draw you in and keep you hooked. Using interviews with LuAnne Henderson and quotes from Beat icons in Kerouac's, Cassaday's and Henderson's inner circle of fellow travelers, the authors give readers a fascinating literary treat."
Midwest Book Review

"A revealing portrait...A welcome addition to the growing literature on the women of the Beat Generation. With a generous selection of black-and-white photographs."
Library Journal

"Nicosia makes a compelling case for Henderson's unique perspective on and understanding of Kerouac and Cassady, poster boys for the Beat generation. ... A real find for Beat aficionados, adding verve to a cherished moment in American history and the novel that came to define it."
Kirkus Reviews

"If it hadn't been for a nubile teenager named Lu Anne Henderson, Jack Kerouac never would have hooked up with the legendary Neal Cassady, and never would have written On the Road, the defining novel of the Beat Generation, one of the most influential books of the 10th century.
Marin Independent Journal

"Other books on the beats have shown slight glimpses of Lu Anne Henderson, the 'one true love' of Jack Kerouac's sidekick Neal Cassady, but none does it as candidly as this new insider account of the creative forces of the movement that rocked America in the late 1950s. ... This bold, confidential look presents Henderson as a sturdy survivor in the bohemian movement, which evaporated swiftly but whose influence persists."
Publishers Weekly

"This is the missing back-story of the back-story of On the Road, the mysterious missing woman a lot of us sensed was there but invisible and silent. Until now. Nicosia has given her voice and made her visible, and she's extraordinary. No wonder both Kerouac and Cassady loved her."
Russell Banks, author of Cloudsplitter

"One and Only is essential reading for anyone wishing to get the full picture of the Beat Generation. Lu Anne Henderson was Neal Cassady's life-long love and was responsible for the friendship with Kerouac that gave us On The Road. Gerald Nicosia was always a loyal advocate of the women of the Beat Generation, and his remarkable interview with Lu Anne fills in an enormous gap in the story. It shows the vulnerability and insecurities of the main characters, and reveals the chaos of their emotional lives so that Kerouac and company finally emerge as real people! A great book."
Barry Miles, author of Ginsberg: A Biography; Jack Kerouac: King of the Beats; and the forthcoming authorized biography of William S. Burroughs, Call Me Burroughs

"The passion and knowledge Gerald Nicosia shared through Memory Babe has influenced so many people to appreciate Kerouac and his work; I've read all the Kerouac biographies, and Memory Babe is clearly the best."
Walter Salles, director of On the Road

One and Only is an ongoing chapter in the riveting Beat saga, chronicling another life and its poignant hopes and fears. An unsung teen-heroine of the time, Lu Anne Henderson, the young woman on whom the character Marylou' in On the Road is based, finally has her say. The book is an intimate and revealing portrait in the annals of American belletristic and real life memory."
Anne Waldman, author of In the Room of Never Grieve, Iovis and Beats at Naropa, and co-founder of The Jack Kerouac School of Disembodied Poetics, Naropa University

I read One and Only straight through and loved it, and loved the energy that was put into it. Lu Anne, much ignored by most of the biographers except Nicosia, finally comes across as a vital part of the Beat Generation. His new book is an informative and moving portrait of a girl who was really a lady, and lets us see once again how strong was the influence of womanhood on the major Beats, both negative and positive. One and Only is must reading and fills in many gaps. It will become an essential part of the Beat canon."
Jerry Kamstra, original Beat poet, author of The Frisco Kid and Weed: Adventures of a Dope Smuggler

One and Only is an essential addition and corrective to the masculine locus of Beat Generation history. Lu Anne Henderson was a witness and participant in the legendary road trips and saw Neal Cassady, Kerouac, Ginsberg, and Burroughs in a clear-headed light. Nicosia's reclamation of her centrality to that experience is revelatory. Her testimony captures the complicated involvement with these men with clarity, compassion, and wise humor. This book is a necessary revelation of the female experience in postwar U.S., not to mention the incredible story and insights into the times covered by On the Road and also those after."
David Meltzer, original Beat poet, author of San Francisco Beats: Talking with the Poets; Beat Thing; and David's Copy

What a great and important find: Lu Anne Henderson, aka Marylou of On The Road. Neglected by most of the scholarship, she put Jack and Neal together, is at the core of the movement that changed history, both literary and cultural history. But only Eastern establishment scholars and male-identified fans could be stunned by her. For Westerners, childhood was full of such womenthe mothers we grew from. Henderson's authenticity is no surpriseis relief, joy and truth. We owe thanks to Gerald Nicosia for the interestingly-crafted One and Only, a sweet book and a delightful, beautiful story that can never again be ignored."
Sharon Doubiago, author of Hard Country, The Book of Seeing With One's Own Eyes, and Love on the Streets

The voice of Lu Anne Henderson rises up off the page in this tender yet psychologically acute memoir, transcribed by Gerald Nicosia from tapes he made thirty years ago. Henderson played a crucial, inspirational part in the lives of Cassady and Kerouac, and the true circumstances of their complex relationship are revealed here for the first time. One and Only also shows the poverty and chaos and sometimes the sheer scariness of the lives of the Beats. Above all, the book shows the vulnerability and lack of self-esteem, the confusion and jealousy, which lay behind Cassady and Kerouac's machismo. Henderson's crucial insight is that Cassady and Kerouac, despite their profound friendship, were totally unaware of the other one's real feelings,' a situation which only got worse when they became cultural icons. This new book by Nicosia is an invaluable contribution to Beat history."
Ian MacFadyen, British Beat scholar and editor of Naked Lunch at 50: Anniversary Essays

Gerald Nicosia is surely the preeminent historian of the Beat Generation, and One and Only adds new and brightly colored pieces to his vast mosaic."
Aram Saroyan, author of Last Rites, Genesis Angels, and Starting Out in the Sixties

Gerald Nicosia has done it again! He just keeps filling in the pieces of the Beat era for us. One and Only fleshes out the beginnings of On the Road and makes it fuller and more interesting. Lu Anne was certainly a force to be reckoned with. Her lust for life and fullness of being and generosity of spirit show through only too clearly. Her vital North Beach career, her mothering ability, her recovery from heroin addiction, her many marriages, her long clandestine affair with Neal, and her own longevity speak well for her love affair with life as well as with Neal. And her demand for a broad margin to her life,' showing she had as much right to go through every open door as a man had,' will strike many women as apt in their own lives. By the 60's, a number of us followed her. I read One and Only from cover to cover in one day, and Lu Anne's presence hovers with me still."
Joanna McClure, author of Hard Edge, Wolf Eyes and Extended Love Poem

Gerald Nicosia does such an excellent and thorough job of documenting the Beat Family.'"
Joanne Kyger, original Beat poet, author of The Japan and India Journals and About Now: Collected Poems

Gerald Nicosia performs a fascinating feat of balance with One and Only. While preserving his admiration for Jack Kerouac's writing, he exploreswith the collaboration of Anne Marie Santos and the preserved words of Lu Anne Hendersonthe faults of character which contribute to an ambiguous cult status for Jack Kerouac and his beau ideal, Neal Cassady. The book is a most valuable addition to Kerouaciana and the legend of Neal Cassady. It also gives Lu Anne a place she deserves, and has not gotten from others."
Herbert Gold, author of Fathers and Still Alive

I always sensed Lu Anne was Neal's real sweetheart. He always had a special look on his face when he mouthed her name. Having been an intimate of major players in