Burning the Midnight Oil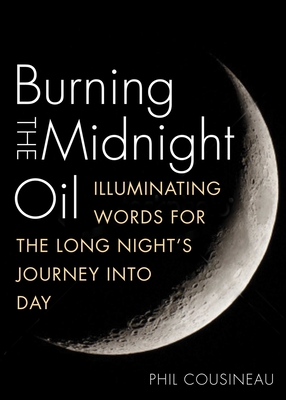 Burning the Midnight Oil
Illuminating Words for the Long Night's Journey Into Day
Viva Editions, Hardcover, 9781936740734, 322pp.
Publication Date: December 17, 2013
* Individual store prices may vary.
Buy at Local Store
Enter your zip code below to purchase from an indie close to you.
or
Buy Here
Description
In "Burning the Midnight Oil, " word-wrangler extraordinaire Phil Cousineau has gathered an eclectic and electric collection of soulful poems and prose from great thinkers throughout the ages. Whether beguiling readers with glorious poetry or consoling them with prayers from fellow restless souls, Cousineau can relieve any insomniac's unease. From St. John of the Cross to Annie Dillard, Beethoven to "The Song of Songs, " this refreshingly insightful anthology soothes and inspires all who struggle through the dark of the night. These "night thoughts" vividly illustrate Alfred North Whitehead's liberating description of "what we do without solitude" and also evoke Henry David Thoreau's reverie, "Our truest life is when we are in dreams awake." These poetic ponderances sing of the falling darkness, revel in dream-time, convey the ache of melancholy, conspire against sleeplessness, vanquish loneliness, contemplate the night sky, rhapsodize on love, and languorously greet the first rays of dawn. Notable night owls include Rabandranath Tagore, Mary Oliver, Manley Hopkins, Jorge Borges and William Blake.
Winner of the Independent Publisher Award Gold Medal in Inspirational/Spiritual.
About the Author
Phil Cousineau is a writer, teacher, editor, documentary filmmaker, travel leader and storyteller. An expert in mythology, travel and creativity, he has published more than 25 books, including the bestselling The Art of Pilgrimage and Stoking the Creative Fires. He has 15 documentary screenwriting credits to his name, including The Hero's Journey and the Academy Award-nominated Forever Activists. Currently, he is host of the national television series Global Spirit on Link TV and lives in San Francisco, California. Scott Chamberlin Hoyt is a filmmaker, photographer, painter, budding tea connoisseur and director of The Meaning of Tea project. His longtime interest in tea increased when he began studying various alternatives to orthodox modern medicine and learned that tea, and the enjoyment of tea, is one of the cornerstones of living life well. Scott lives in New York City and is on the board for Global Learning Across Borders, is a member of the Directors Circle for the American Botanical Council, and is President of the Tibetan Classics Translators Guild of New York.


Praise For Burning the Midnight Oil…
"The brighter side of darkness- for some the night inspires. It's not just vampires who seek the dark: it's poets, painters, musicians and artists of all kinds. Writer, filmmaker and traveler Phil Cousineau has edited a new anthology that centers on the creative joys of nighttime. The mixture of poetry and prose is called Burning the Midnight Oil: Illuminating Words for the Long Night's Journey Into Day. The book has a forward from a surprising figure: Jeff Dowd, a film producer and political activist who was the inspiration for The Dude in the Coen Brother's film The Big Lebowski."
NPR Weekend Edition

"Entertaining and enlightening." Foreword Magazine

"This Holy Fool feels fortunate to join you and all the great artists in this book who have entered The Grand Central Station of the Mind and have passed by the tres boring Orient Express on Track #1 to hop on...the Night Express to our Soul, somewhere at the dark end of the station that leads, if perchance we survive, to the light of life--the secret source. No risk/no reward from this nocturnal thrill ride through our subconscious."
--Jeff "The Dude" Dowd, in his foreword

"Calling all insomniacs! This collection of prose and poetry explores every aspect of darkness. From a discussion of Edward Hoppers Nighthawks to Sappho's reveries about nightingales and daybreak, Phil Cousineau leaves no stone unturned as he explores both the realities and the metaphors associated with the night."
Anna Jedrziewski, Retailing Insight

"In this engaging, entertaining and edifying anthology of essays, poems, quotations, prayers, and philosophical ditties, Cousineau probes the multidimensional world of the night with all its treasures, mysteries, and delights [...] Anyone who has savored the pleasures of being a night owl will rejoice in the varied material in this paperback where 'noctivagators' (the night walkers) share their experiences of 'the Long Night's Journey Into Day.'"
Spirituality & Practice

"Phil Cousineau's new collection is cause for rejoicing. He leads us on the long night journey, holding brilliant candles, flashlights, lanterns, spotlights, all made of glorious words, to illumine the hours. Wherever the night carries us, through waking dreams, sweats, worries, or raging sleeplessness, Phil Cousineau's elegant new work provides troubadour songs, thoughtful conversation, and sweet companionship to help us not only make it through the night but to find within its darkness a profound, dazzling beauty."
--Peggy Rubin, author of To Be and How To Be: Transforming Your Life Through the Powers of Sacred Theatre

"My night vision has been trebled! Essentially a day person, I feel vastly enriched journeying this dusk-to-dawn world, guided by those who have mined the dark hours with enthralling courage, curiosity, lyricism, spirituality, eroticism, humor, passion and honesty. No cursing the darkness here. Once again the candle-lighting Cousineau delivers new delights in the familiar, the exotic, the old, the modern, the high, the low--and the deliciously unclassifiable. "
--Arthur Plotnik, author of Better Than Great and The Elements of Expression

This kind of book is the kind you dip into, but I read it cover to cover, not wanting to miss an entry"
--Daniel Goldin, Boswell Books

"Wordcatcher stirs up...the delight that comes with finding the unexpected embedded within the familiar"
--ForeWord Reviews, on Wordcatcher

"All throughout my delightful role as Watson to Cousineau's Holmes (with great panache, of course), I felt the passion, the anticipation of joy and the rhapsody of the chase as I discovered the oftentimes secret origins and meanings of the most bewildering, the most astonishing, the most completely absurd, and even the most sardonic and contemptuous of words, and, finally, the wise and witty."
--Christina Forsythe, Fresno Book Review, on Wordcatcher

"Whether an unabashed wordnerd or a casual reader, a dictionary hound or someone looking to expand your own personal lexicon, there is plenty to interest you in Wordcatcher."
--Glenn Dallas, Sacramento Book Review, on Wordcatcher

"[Cousineau] is continually pushing the envelope in finding interesting topics to scrutinize"
Helene Vachet, New Perspectives Magazine

"Stake out a claim next to the standard dictionary you use for this less pedantic companion. It contains fewer words but sends up Fourth of July skyrockets on all of them. But caveat emptor, readers beware! Cousineau's love affair with words is contagious and you are likely to end up lovesick with words yourself"
--Huston Smith

"Wordcatcher allows us to remember the genius of language--to see, feel and, it seems, even "taste" the living-ness and poetry hidden within these many common and uncommon words. A delicious book."
--Jacob Needleman
Saturday, Dec 21, 2013
Saturday is the winter solstice � which means it will be the longest night of the year. For many artists and poets, that thought is far from depressing: instead, night's darkness is invigorating. Filmmaker Phil Cousineau has edited a new collection on the allure of the night, and Jeff Dowd � the inspiration for "The Dude" � wrote the foreword. More at NPR.org