Louise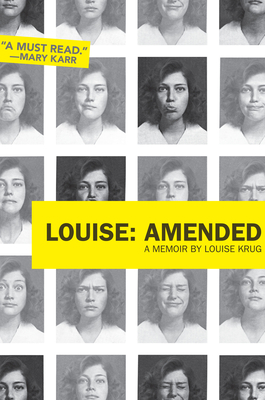 Louise
Amended
Black Balloon Publishing, Paperback, 9781936787012, 192pp.
Publication Date: April 24, 2012
* Individual store prices may vary.
Buy at Local Store
Enter your zip code below to purchase from an indie close to you.
or
Buy Here
Description
"A massive brain trauma robbed fashionable young Louise of the shallow currency she'd banked on all her life, and the resulting struggle is a page-turner in which a person's very soul deepens before your eyes. "Louise: Amended "rewards a reader's timea must read."Mary Karr
A beautiful young woman from Kansas is about to embark on the life of her dreamsCalifornia Glossy journalism French boyfriend only to suffer a brain bleed that collapses the right side of her body, leaving her with double vision, facial paralysis, and a dragging foot. An unflinching, wise, and darkly funny portrait of sudden disability and painstaking recovery, the memoir presents not only Louise's perspective, but also the reaction of her loved oneswe see, in fictional interludes, what it must have been like for Louise's boyfriend to bathe her, or for her mother to apply lipstick to her nearly immobile mouth. Challenging the notion that one person's tragedy is a single person's story, "Louise: Amended" depicts a dismantlingand rebirthof an entire family.
At age twenty-two, Louise Krug suffered a brain bleed and underwent an emergency craniotomy that disrupted her ability to walk, see, and move half her face. Now, six years later, Louise has astounded doctors and loved ones by recovering not only much of her vision and mobility, but a ferocious spirit and enviable grace. She currently lives with her husband Nick and daughter Olive in Lawrence, Kansas, where she's a PhD candidate and teacher.

Praise For Louise…
"A massive brain trauma robbed fashionable young Louise of the shallow currency she'd banked on all her life, and the resulting struggle is a page-turner in which a person's very soul deepens before your eyes. Louise: Amended rewards a reader's time--a must read."Mary Karr

"This story of shattered hope, gigantic challenge, unlikely courage, slow revelation will have you gripping the pages and rooting from the sidelines. Louise reinvents the memoir, makes it bolder, stronger, stranger, more honest, and-in every possible way-wildly inspiring."Deb Olin Unferth

"Krug, who is 29 now and married with a new baby didn't consult her ex-boyfriend about his feelings at the time. But if the adoption of his voice seems unfair at first, it grows apparent that Krug isn't taking aim at Claude or anyone else. Louise is the target."Kansas City Star

In this memoir, the author recounts the life-threatening brain trauma that severely disabled her at age 22. Her fight for recovery is inspirational. Today, Krug is a wife, mother, teacher and Ph.D. candidate."Sacramento Bee