Just Run It!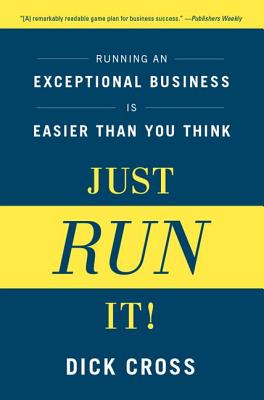 Just Run It!
Running an Exceptional Business Is Easier Than You Think
Bibliomotion, Hardcover, 9781937134006, 199pp.
Publication Date: April 3, 2012
* Individual store prices may vary.
Buy at Local Store
Enter your zip code below to purchase from an indie close to you.
or
Buy Here
Description
The growth engine of the global economy is no longer through mega-production and huge conglomerates, but rather through the proliferation of smaller enterprises. In America alone, tens of thousands of businesses crop up each year. Unfortunately, few will succeed, though not due to a lack of ingenuity, initiative, or even capital. Why, then? Because, according to Dick Cross, author of Just Run It , most business owners lack not just the fundamentals, the nuts and bolts of operating a business effectively day to day, but the bigger picture of how to achieve business success. After taking dozens of companies from underperforming to high performancing, Cross observed a pattern, out of which he devised a formula for success. Using his Just Run It formulawhich includes the Vision-Strategy-Execution analysishe is now teaching business owners how to understand their business on the back of an envelope and make it exceptional.
About the Author
Dick Cross has worked with underperforming companies for over twenty-five years, helping mainstream businesses achieve their next level of success. Dick has been the Chairman, CEO, or President at eight of those companies, and has mentored more than 100 CEOs at others. Much of his career has been spent in private equity circles, including Fenway Partners, and he currently serves on the board of numerous corporate, philanthropic, and civic organizations. On the lecture circuit, Dick is an enthusiastic, colorful, and engaging speaker, who greatly enjoys conveying the story behind every business. He holds a degree in Architecture from the University of Virginia and a Masters of Science in Business from Columbia University. He and his wife split the year between Concord, Massachusetts, and Gloucester Point, Virginia. Dick is also the author of 60 Minute CEO: Mastering Leadership an Hour at a Time (Bibliomotion 2012).