Tributary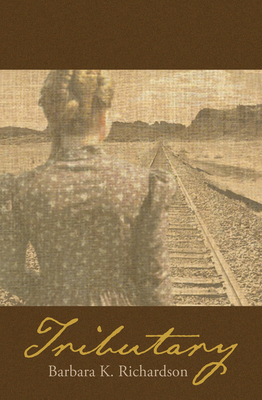 Tributary
Torrey House Press, Paperback, 9781937226046, 348pp.
Publication Date: September 4, 2012
* Individual store prices may vary.
Buy at Local Store
Enter your zip code below to purchase from an indie close to you.
or
Buy Here
Description
Winner of the 2013 Utah Book Award and WILLA Literary Finalist Award
A misfit in a Mormon frontier town, Clair Martin shows what polygamy feels like from inside the fold. Her stubborn search for identity takes Clair beyond the confines of the Utah Territory to the slums of Reconstruction Dixie, and back again. Here, one young woman's life becomes a quiet revolution to untangle what you inherit from what you need.
BARBARA RICHARDSON's debut novel, "Guest House," launched the first literary Truck Stop Tour in the nation. In "Tributary," she claims the land of her Mormon ancestors who settled the northern Salt Lake Valley. Richardson earned an MFA in poetry from Eastern Washington University. Aside from writing, Barbara has renovated four houses, enjoyed Argentine tango, fallen in love with tai chi, helped can the West's finest plum jam, adored conifers, and planted thousands of trees and shrubs for others. Barbara is also an avid environmentalist. She lives in Kamas, Utah.
"In some ways, the novel serves to circumvent the convention of Western literaturethe story explores how the landscape itself becomes the salvation of Clair Martin."
"THE SALT LAKE TRIBUNE"
"Richardson takes readers back to 1870 Utah for this tale of strength and survival. Raised as a Mormon, our hero Clair Martin travels to the American South, through Shoshone country, and back to Utah."
"DENVER POST"
"StunningGrittyRemarkable"
"15 BYTES"
"Richardson, whose Mormon ancestors settled in the northern Salt Lake Valley, offers a complete portrait of life in the American West by exploring the struggles of a woman living outside the centers of power. Engaging and beautifully written, "Tributary" is a welcome addition to the current conversation."
"5280 MAGAZINE"
"As wild and isolating as the determined, defiant Clair, the prairies and mountain ranges seduce both narrator and reader. Richardson has created rich, memorable characters."
"HIGH COUNTRY NEWS"
"A quest to belong is the theme of this novel from Richardson, whose lyrical prose and heartfelt characters shine through. This novel has much to offer, including a balanced perspective on a controversial time in Mormon history, but its greatest gift is its wisdom about finding one's own path."
"PUBLISHERS WEEKLY"
""Tributary" is a novel whose characters and time are so well inhabited, whose landscapes are so lovingly evoked, we wonder if Richardson is not speaking to us directly from the late 19th century, from a high bench above the Great Salt Lake. The language and writing are surefooted and fresh and often startling the way the best poetry can be startling. Richardson is a new American voice worth listening to."
PETER HELLER, author of "The Painter" and "The Dog Stars"
"Beautifully written and engaging, this is a story of one woman and her refusal to cave into societal norms in order to seek her own difficult and inspired path."
LAURA PRITCHETT, author of "Stars Go Blue"
"You'll love resolute Clair Martin, the equal of any manor religion. Clair's strength and survival are the heritage of western women."
SANDRA DALLAS, author of "True Sisters."
""Tributary" is a remarkable odyssey of the American West, told in one of the most clear-sighted, unjudging, and original voices I've come across in years."
MOLLY GLOSS, author of "The Jump-Off Creek"
"Seldom does a novel come along that is as beautifully written and emotionally honest as "Tributary." Barbara K. Richardson captures the grandeur and harshness of the Old West in a young woman's struggle to find a home and a family without losing herself. A lyrical and haunting story not to be missed."
MARGARET COEL, author of "Buffalo Bill's Dead Now"