Food Over Medicine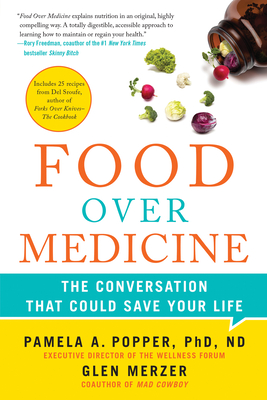 Food Over Medicine
The Conversation That Could Save Your Life
Benbella Books, Hardcover, 9781937856809, 240pp.
Publication Date: June 2013
* Individual store prices may vary.
Shop Local
Enter your zip code below to find indies closest to you.
Description
Almost half of Americans take at least one prescription medicine, with almost a quarter taking three or more, but diseases such as diabetes, obesity, and dementia are growing more prevalent than ever. Overmedicated, overfed, and malnourished, Americans fail to realize the answer to lower disease rates doesn't lie in more pills, but in the foods we eat.

In Food Over Medicine, Pamela A. Popper, PhD, ND, and Glen Merzer openly discuss the dire state of American health, the result of poor nutrition choices stemming from cynical food politics and medical misinformation. But, more important, they share the key to getting and staying healthy for life. As executive director of The Wellness Forum, Popper works to change lives through diet and lifestyle, reduce medical costs for businesses through health education programs for employees, and educate health care professionals on the healing potential of an optimal diet.

Backed by numerous scientific studies, Food Over Medicine details how diet can dramatically improve health and turn around alarming diagnosessuch as high cholesterol, high blood pressure, Crohn's disease, multiple sclerosis, and other major health problemsand do so more effectively than drugs that often have lingering side effects. Including recipes from Del Sroufe, author of the bestselling Forks Over KnivesThe Cookbook, Food Over Medicine reveals the power and practice of optimal nutrition in a highly accessible way.
About the Author


Glen Merzer grew up in Bellmore, N.Y., and was educated at New College of Florida, Indiana University, and Boston University. He has co-authored several works of non-fiction, all advocating a low-fat, plant-based diet. "Off the Reservation" is his first novel.
Praise For Food Over Medicine…
"Very few people, and even very few doctors, really understand how powerful nutrition can be in preventing and in treating most of the illness that afflicts us today. Food Over Medicine is an outstanding resource for anyone wanting to maximize their health and minimize their dependence on western medicine."
John Robbins, author of No Happy Cows and Diet for a New America

Food Over Medicine explains nutrition in an original, highly compelling way. A totally digestible, accessible approach to learning how to maintain or regain your health."
Rory Freedman, author of Skinny Bitch

Food Over Medicine is a must for anyone remotely concerned about health. It is incredibly funny, totally engaging, and promotes a diet that just happens to be the best for the planet."
Ed Begly Jr., actor and environmental activist

Reading Food Over Medicine could be the best health insurance you ever had. This no-nonsense approach to solid health information may save your life!"
Howard F. Lyman, coauthor of Mad Cowboy and No More Bull!

Food Over Medicine is an excellent book that reveals the truth that health is more about dietary choices and plant-based nutrition than about doctors, diagnostic tests, surgeries, procedures, and medications. The book is easy-to-read, entertaining, and humorous. But, above all else, it is incredibly informative, enlightening, inspiring, and self-empowering. It will open your eyes. It will encourage you to take charge of your life."
Dr. Walter R. Jacobsen, author of Forgive to Win!

Food Over Medicine cuts through every nutrition-related controversy to give you the information you need for a lifetime of health and trim weight."
Janice Stanger, Ph.D., author of The Perfect Formula Diet