Real Man Adventures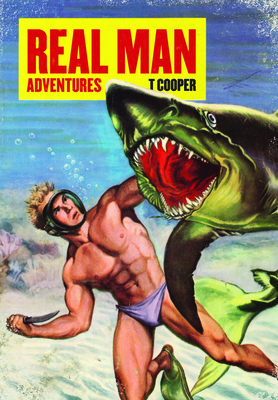 Real Man Adventures
McSweeney's Books, Hardcover, 9781938073007, 277pp.
Publication Date: December 4, 2012
* Individual store prices may vary.
Buy at Local Store
Enter your zip code below to purchase from an indie close to you.
or
Buy Here
Description
A few years ago, the novelist T Cooper wrote his parents a letter telling them he wasn't their daughter anymore." And that was the good news."

Real Man Adventures is Cooper's brash, wildly inventive, and often comic exploration of the paradoxes and pleasures of masculinity. He takes us through his transition into identifying as male, and how he went on to marry his wife and become an adoring stepfather of two children. Alternately bemused and exasperated when he feels compelled to explain all this, Cooper never loses his sense of humor. Ten Things People Assume I Understand About Women But Actually Don't," reads one chapter title, while another proffers: Sometimes I Think the Whole of Modern History Can Be Explained by Testosterone."

A brilliant collage of letters, essays, interviews (with his brother, with his wife, with the parents of other transgender children), artwork, and sharp evocations of difficult conversations with old friends and puzzled bureaucrats, Real Man Adventures will forever change what you think about what it means to be a man.
About the Author
T Cooper's debut novel Some of the Parts, was a B&N Discover Program selection and a Quality Paperback Book Club pick. Her work has appeared in many publications, including the New York Times, the Believer, and The Future Dictionary of America (McSweeney's Books). Her second novel, Lipshitz Six, or Two Angry Blondes is forthcoming from Penguin/Plume. T lives in New York City.
Praise For Real Man Adventures…
In this mind-bendingly good book, T Cooper gets to the heart of what it is to be human by circling around questions most of us don't ever know to ask. Subtle, engaging, righteously furious and often brilliant, this book radiates infinite possibility."Nick Flynn

"T Cooper (The Beaufort Diaries) used to be a woman. Now he's a man. If we were all comfortable with that, we'd be done. But we're not; there are people who respond violently when they discover that someone doesn't meet their standards of manliness. Cooper knows the essential truth" that the foremost thing on people's minds when confronted with a transgender man is his dick," and addresses these facts (salient, but not dispositive), along with others, in a variety of registershumorous, angry, resigned, fearful, accepting, worried, matter of fact. This varietyone of the book's strengthsextends to the book's contents, which include interviews, telling six-word autobiographies, letters, and longer memoirlike segments. For those seeking a more standard account of a transperson's journey," the book may disappoint, but Cooper's free-form story, including pieces of his process, paeans to his wife and kids, what it's like to be a member of the Man Club," and what he most fears, is humorous, surprising, and heartfelt. Spoiler alert: he finesses that most pressing question, pushing the reader to consider their prurience and conceptualization of gender around a key but limited set of body parts."Publishers Weekly

"Sublime confidence and spirit distinguishes this unorthodox memoir of gender and identity.

Novelist Cooper (The Beaufort Diaries, 2010, etc.) establishes his point of view early on when describing himself as a droll, outspoken, Jewish, darker-skinned man who has undergone gender reassignment surgery. Wholly at ease in his own skin, he unleashes a flood of provocatively opinionated, informative slices of his life as a fully transitioned female-to-male American. With lively writing throughout, Cooper presents haiku pieces, childhood memories and the 'sitting down to urinate' debate creatively interwoven with frank discussions of transgender violence, poignant commentary from his wife, who constantly fears for her husband's safety (they live in a 'decidedly conservative and religious' Southern state), and the author's innermost fears. Cooper also shares varied versions of a revealing 2009 letter to his parents explaining how their daughter is now (and has always been) 'basically a dude.' Extended interviews with 'seasoned tranny' Kate Bornstein, Cooper's brother (a member of the LAPD) and the parents of other transgendered acquaintances are probing, entertaining and revealing. The author's inner journey toward self-awareness seems to have been relatively smooth, other than a series of conversational minefields he encounters regularly when discussing his gender identity with others. But chapters on his own personal confusion and uncertainty demonstrate a distinct consciousness for the paradoxical nature of the transgender experience at large.

A memoir infused with personality and the ballsy honesty of someone for whom becoming a man was 'the most natural thing in the world.'"Kirkus

"[A} sharp, hilarious, incredibly personal, and ingenuously honest look at what the hell it even means to be a man."Interview Magazine