The Book of Goodbyes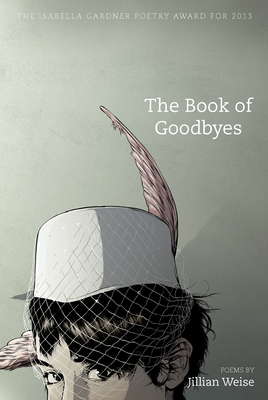 The Book of Goodbyes
BOA Editions, Paperback, 9781938160141, 74pp.
Publication Date: September 3, 2013
* Individual store prices may vary.
Buy Now
or
Shop Local
Enter your zip code below to purchase from an indie close to you.
Description
WINNER OF THE 2013 JAMES LAUGHLIN AWARD

Winner of the 2013 Isabella Gardner Poetry Award

A "Publishers Weekly" "Best Book of 2013"

A NPR "Best Book of 2013"

A Coldfront Magazine "Top 40 Poetry Book" for 2013

"These fierce, hip, heartbreaking love poems call out to a lover who can't be lived with or without. They're humorous, odd, and full of all the unreasonable truth of love. This book is the real thing." "--Publishers Weekly"

Weise's collection "examines the daily life and consciousness of a speaker with a disability willing to confront all taboos associated with sex, intimacy, identity, gender, and love." - "Coldfront Magazine"

The "Los Angeles Times" described Jillian Weise's debut poetry collection as "a fearless dissection of the taboo and the hidden." In this second collection she forwards her bold, sexy poetics by chronicling an affair with a man she names "Big Logos." These poems throw into question sex, the law, identity, sentiment, and power, shifting between lyric and narrative, hyper-realism and magical realism, fact and fiction.
I've Been Waiting All Night
"I reckon you were asleep with your girl
before the phone rang. Make something up."
"I've been waiting all night to tell you
about the couple in post-War France, "
"the woman fresh in her grave
and the man who didn't like his mistress dead, "
"no sir, and so exhumed her, to the dismay
of his wife, who had him arrested"
"for the stink he made.
She was reburied, returned to the dead."
"After jail, he dug her up to fuck again.
Attached suction cups and crafted"
"a wig from a broom. You can go now.
I'm more in the mood than you're used to."
Jillian Weise--an above-the-knee amputee with a computerized prosthetic--identifies as a cyborg and has discussed the identity in essays for the "New York Times" and "Drunken Boat." Her books include "The Amputee's Guide to Sex" (Soft Skull Press, 2007) and "The Colony" (Counterpoint/Soft Skull Press, 2010). She is an assistant professor at Clemson University, a contributing editor at the "South Carolina Review," and co-director of the Annual Clemson Literary Festival.