Training for the New Alpinism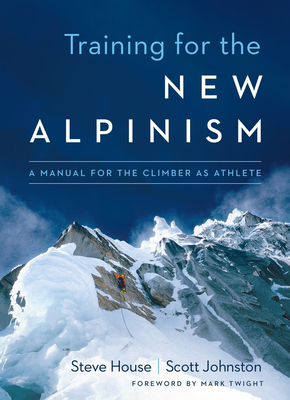 Training for the New Alpinism
A Manual for the Climber as Athlete
Patagonia Books, Paperback, 9781938340239, 464pp.
Publication Date: March 18, 2014
* Individual store prices may vary.
Buy at Local Store
Enter your zip code below to purchase from an indie close to you.
or
Buy Here
Description
In Training for the New Alpinism, Steve House, world-class climber and Patagonia ambassador, and Scott Johnston, coach of U.S. National Champions and World Cup Nordic Skiers, translate training theory into practice to allow you to coach yourself to any mountaineering goal. Applying training practices from other endurance sports, House and Johnston demonstrate that following a carefully designed regimen is as effective for alpinism as it is for any other endurance sport and leads to better performance. They deliver detailed instruction on how to plan and execute training tailored to your individual circumstances. Whether you work as a banker or a mountain guide, live in the city or the country, are an ice climber, a mountaineer heading to Denali, or a veteran of 8,000-meter peaks, your understanding of how to achieve your goals grows exponentially as you work with this book. Chapters cover endurance and strength training theory and methodology, application and planning, nutrition, altitude, mental fitness, and assessing your goals and your strengths. Chapters are augmented with inspiring essays by world-renowned climbers, including Ueli Steck, Mark Twight, Peter Habeler, Voytek Kurtyka, and Will Gadd. Filled with photos, graphs, and illustrations.
About the Author
House, along with Vince Anderson, pioneered a new direct route on the Rupal Face of Pakistan's 8,126-meter Nanga Parbat. He also spends time pursuing climbs in the Alaska Range, the Canadian Rockies, and the European Alps. He has worked as a Patagonia alpine ambassador since 1999.



Mark Twight is one of America's leading alpinists. His gripping accounts have been published around the world, translated into five languages. Twight was the first and fastest to solo the "Czech Route" on Peak Communism (10,000 feet up and down in 36 hours). He made the first ascent of "Deprivation" on Alaska's Mount Hunter (in 72 hours round-trip), climbed five extremely difficult new routes in the French Alps, and made a non-stop, 60-hour ascent of Mount McKinley's "Czech Direct" (the previous fastest party took seven days). Twight works as a technical advisor for several climbing gear manufacturers and teaches climbing and crisis nutrition to U.S. Special Forces opratives. Home is wherever his wife, Lisa, and an 85-pound Akita named Zuma happen to be, which is in Utah for now.