After Abel and Other Stories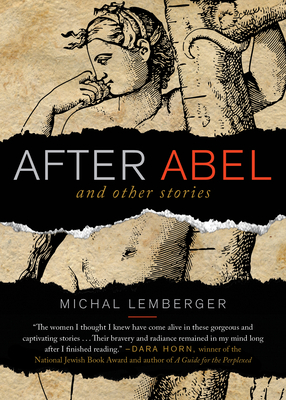 After Abel and Other Stories
Prospect Park Books, Paperback, 9781938849473, 288pp.
Publication Date: April 7, 2015
* Individual store prices may vary.
Buy at Local Store
Enter your zip code below to purchase from an indie close to you.
or
Buy Here
Description
Finalist, 2015 National Jewish Book Award
Honorable Mention, Sophie Brody Medal, American Library Association
One of the Jewish Book Council's "15 fiction books that shaped Jewish literature in 2015"
"Eve considers motherhood.
Miriam tends Moses.
Lot's wife looks back. "
Vividly reimagined with startling contemporary clarity, Michal Lemberger's debut collection of short stories gives voice to silent, oft-marginalized biblical women: their ambitions, their love for their children, their values, their tremendous struggles and challenges. Informed by Lemberger's deep knowledge of the Bible, each of these nine stories story recasts a biblical saga from the perspective of a pivotal woman.
Michal Lemberger's nonfiction and journalism have appeared in "Slate," "Salon," "Tablet," and other publications, and her poetry has been published in a number of print and online journals. A story from "After Abel," her first collection of fiction, was featured in "Lilith Magazine." Lemberger holds an MA and PhD in English from UCLA and a BA in English and religion from Barnard College. She has taught the Hebrew Bible as Literature at UCLA and the American Jewish University. She was born and raised in New York and now lives in Los Angeles with her husband and two daughters.
Original and thought-provoking. KIRKUS REVIEWS
Lemberger imbues her characters with a consciousness that, although taking place in ancient times, seems contemporary, because she brings such empathy to her characters It is this act of empathy that shines through. an alternative dialogue that reminds us that it is the stories that we tell that are civilization's true heritage. FORBES
Fresh and engaging. PUBLISHERS WEEKLY
Appeals to readers with even the most basic introduction to the Biblical canon, but especially those whose imaginations are piqued by the mystery of an untold story. JEWISH BOOK WORLD
Reminiscent of Anita Diamant's "The Red Tent." . . . These beautifully written stories feel like meeting Eve, Lot's wife, and many other compelling characters for the first time. LAUREL CORONA, author of "The Mapmaker's Daughter" and "The Four Seasons: A Novel of Vivaldi's Venice"
Stunning. MOLLY ANTOPOL, author of "The UnAmericans"
Gorgeous and captivating. DARA HORN, author of "A Guide for the Perplexed" and "The World to Come"
Marvelous. MICHELLE HUNEVEN, author of "Off Course" and "Blame"
What struck me most about these stories is their clear, assured confidenceas if Michal Lemberger had pulled apart some of the lines in the old story, spied a new story tucked in there way off in a corner, shimmied in a fishhook and pulled it out. AIMEE BENDER, author of "The Color Master" and "The Particular Sadness of Lemon Cake"

About the Author


Jonathan Kirsch is the author of ten books, including the national bestseller The Harlot by the Side of the Road and his most recent work, the Los Angeles Times bestseller A History of the End of the World. Kirsch is also a book columnist for the Los Angeles Times, a broadcaster for NPR affiliates in Southern California, and an adjunct professor at New York University.