Notes to Boys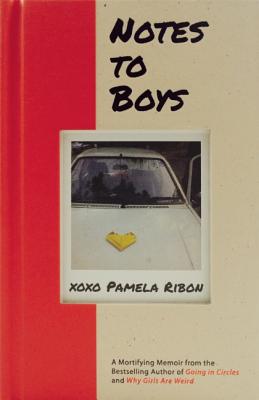 Notes to Boys
And Other Things I Shouldn't Share in Public
Rare Bird Books, Hardcover, 9781940207056, 316pp.
Publication Date: February 18, 2014
* Individual store prices may vary.
Buy at Local Store
Enter your zip code below to purchase from an indie close to you.
or
Not Currently Available for Direct Purchase
Description
"Notes to Boys: And Other Things I Shouldn't Share in Public" is a mortifying memoir from bestselling author and tv/film writer Pamela Ribon. Miserably trapped in small town Texas with no invention of the internet in sight, Ribon spent countless hours of her high school years writing letters to her (often unrequited) crushes. The big question is: Why did she always keep a copy for herself? Wince along with Ribon as she tries to understand exactly how she ever thought she'd win a boy's heart by writing him a letter that began: "Share with me your soul," and ends with some remarkably awkward erotica. You'll come for the incredibly bad poetry, you'll stay for the incredibly bad poetry about racism.

About the Author
Pamela Ribon is a bestselling author, television writer and performer. A pioneer in the blogging world, her first novel, "Why Girls Are Weird", was loosely based on her extremely successful website pamie.com. The site has been nominated for a Bloggie in Lifetime Achievement, which makes her feel old. Ribon created the cult sensation and tabloid tidbit "Call Us Crazy: The Anne Heche Monologues", a satire of fame, fandom and Fresno. Her two-woman show, "Letters Never Sent" (created with four-time Emmy winner and "Jay Leno Show" favorite Liz Feldman) was showcased at the 2005 HBO US Comedy Arts Festival in Aspen. She has been writing in television for the past seven years, in both cable and network, including on the Emmy-award winning "Samantha Who?" starring Christina Applegate. Using her loyal Internet fan base, Ribon sponsors book drives for libraries in need. Over the years, pamie.com has sent thousands of books and materials to Oakland and San Diego, sponsored a Tsunami-ravaged village of schoolchildren, and helped restock the shelves of a post-Katrina Harrison County, Mississippi. Ribon s book drive can now be found at DeweyDonationSystem.org, which has sponsored libraries from the Negril School in Jamaica to the Children s Institute in Los Angeles.
Praise For Notes to Boys…
"...a book with all the elements I love: best friends, "found" families, Ribon's trademark humor and vivid writing (the description of Smidge's cancerous cough is heart-stopping)." -- Jennifer Weiner, author of GOOD IN BED and THE NEXT BEST THING

"YTIFH is ... like a planetarium, where what matters is the feeling of the whole... You get to the end... and you have that sense that you've heard a whole story that seemed to be about skin-and-bones people, to the point where part of you is still worrying about them, like they're phantom limbs." -- Linda Holmes, NPR

"Don't let the cover ... fool you:... the story that unfolds is anything but just another chick lit beach read. Ribon has undoubtedly made you laugh in the past... but with "You Take It From Here," she will make you cry. Buckets." -- Danielle Turchiano, Made Possible By Pop Culture

"You Take It From Here was my first experience with author Pamela Ribon, but it won't be my last. She has a wry sense of humor, a unique way of putting words together, and even managed to write a humorous book about a dying wife and mother." -- BOOKS AND MOVIES

"If the standard of a good book is the emotions it conveys, the thoughts it sparks, and the way you find it touching your life after you close the pages, because the story sits with you (and I think it is), then this book is more than good. It is spectacular." -- FromTracie.com

"A book with all the elements I love: best friends, found" families, Ribon's trademark humor and vivid writing... I can't wait to dive in." (Jennifer Weiner A Moment of Jen)

You get to the end of the book, and you have that sense that you've heard a whole story that seemed to be about skin-and-bones people, to the point where part of you is still worrying about them, like they're phantom limbs." (Linda Holmes NPR)

"One of those rare books where the characters feel like your best friends from the first page. You'll laugh and cry as Pamela Ribon takes you on a colorful, rich and unforgettable journey of friendship." (Kristin Harmel, author of The Sweetness of Forgetting)

Hilarity and heartbreak compete, but ultimately hope wins in this thoroughly delightful story about what it means to be a woman, a mother, a best friend. I can't wait to pass this book along to every woman who ever mattered to me. Pamela Ribon has a huge, fresh voice, and this is her best book yet." (Joshilyn Jackson, New York Times bestselling author of Gods in Alabama and A Grown-Up Kind of Pretty)

I giggled, I laughed, I got all angry and emo - and once I made sure no one was looking - I cried." (The Readers Cafe)