Information Doesn't Want to Be Free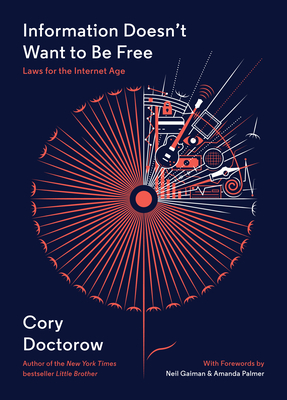 Information Doesn't Want to Be Free
Laws for the Internet Age
McSweeney's Books, Hardcover, 9781940450285, 192pp.
Publication Date: November 2014
* Individual store prices may vary.
Buy Now
or
Shop Local
Enter your zip code below to purchase from an indie close to you.
Description
In sharply argued, fast-moving chapters, Cory Doctorow's "Information Doesn t Want to Be Free" takes on the state of copyright and creative success in the digital age. Can small artists still thrive in the Internet era? Can giant record labels avoid alienating their audiences? This is a book about the pitfalls and the opportunities that creative industries (and individuals) are confronting today about how the old models have failed or found new footing, and about what might soon replace them. An essential read for anyone with a stake in the future of the arts, "Information Doesn t Want to Be Free" offers a vivid guide to the ways creativity and the Internet interact today, and to what might be coming next.
About the Author
Canadian-born Cory Doctorow is the author of the "New York Times" bestselling young adult novel "Little Brother", and the co-editor of the popular blog BoingBoing. His other YA novels include "Pirate Cinema" and "Homeland" (2013), the sequel to "Little Brother". His adult novels and short stories have won him three Locus Awards and the John W. Campbell Award for Best New Writer. He has been named one of the Web s twenty-five influencers by "Forbes Magazine" and a Young Global Leader by the World Economic Forum. He lives in London with his wife and daughter.

Neil Gaiman is the #1New York Timesbestselling author of more than twenty books and is the recipient of numerous literary honors. Originally from England, he now lives in America.


Monday, Nov 3, 2014
In his new book, Cory Doctorow shows creators how to survive in the digital age. He says the problem with copyright law is tech platforms have more control over content than the people who make it. More at NPR.org