The Undertakers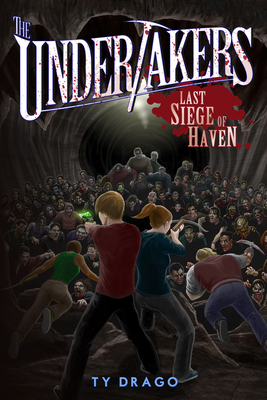 The Undertakers
Last Siege of Haven
Month9books, Paperback, 9781942664000, 250pp.
Publication Date: May 12, 2015
* Individual store prices may vary.
Buy Now
or
Shop Local
Enter your zip code below to purchase from an indie close to you.
Description
While away on an undercover mission, undertaker Will Ritter has made an unthinkable alliance with a Corpse The zombie prince, Robert Dillin, is an alien invader who animates and possesses the bodies of the dead, but unlike the rest of his kind, Dillin isn't evil. In fact, he wants to help. Ritter is willing to take all the help he can get because the Queen of the Dead has learned the location of Haven, the undertakers' secret headquarters, and she is planning a massive and deadly assault. With the last day of the Corpse War finally upon them, Will and his friends find themselves in a desperate race to close the Rift between worlds and forever kill the Corpses. But can they do it before Haven is overrun?
About the Author
Ty Drago is a computer programmer, husband, father, and a born Quaker who has lived in New Jersey almost his entire life. An avid fan of history, he has traveled extensively throughout the U.S. and Europe. Many years ago, Isaac Asimov gave a book signing in Philadelphia to promote his non-fiction work, "One in a Trillion". Drago went to obtain an autographed copy, and when Dr. Asimov learned that Drago was a struggling young SF writer, he penned the following: "To Ty: Please keep trying. Isaac Asimov." And he did.