Unjustifiable Means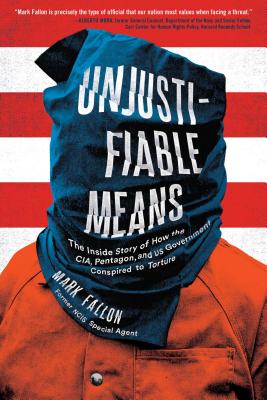 Unjustifiable Means
The Inside Story of How the CIA, Pentagon, and Us Government Conspired to Torture
Regan Arts, Hardcover, 9781942872795, 240pp.
Publication Date: December 31, 2020
* Individual store prices may vary.
Buy at Local Store
Enter your zip code below to purchase from an indie close to you.
or
Not Currently Available for Direct Purchase
Description
From a man who was there at the inception of the United States' torture program, Unjustifiable Means delves into the dark side of the United States government to reveal how our nation evolved to sanction evil. A true insider and a veteran NCIS agent, Mark Fallon was appointed the deputy commander of the Criminal Investigation Task Force (CITF) charged with bringing suspected terrorists to justice in the War on Terror. With the opening of Guantanamo Bay and the arrival of detainees, government agencies--including the CIA, Army, and NCIS--began infighting over whose jurisdiction the investigation fell under, and what the best method was for extracting information on al-Qaeda. Fallon has exclusive insider information on the decision to implement "Enhanced Interrogation Techniques," and the backchannels and deception employed to legalize these methods and hide them from the public's view. Hard-hitting, raw, and explosive, Unjustifiable Means forces the spotlight back onto how America lost its way and exposes those responsible for torturing innocent men under the guise of national security--individuals who have yet to be held accountable for their actions.
About the Author
Mark Fallon is an international security consultant and a career national security professional. He spent more than 30 years as a special agent with the Naval Criminal Investigative Service (NCIS), counterintelligence officer, counterterrorism operative, undercover agent, asset handler and law enforcement specialist. In 2008, he was appointed to the senior executive service within the Department of Homeland Security and was the Assistant Director for Training at the Federal Law Enforcement Training Center.