Bad Girls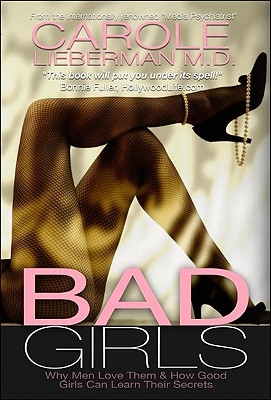 Bad Girls
Why Men Love Them & How Good Girls Can Learn Their Secrets
Cogito Media Group, Paperback, 9782923865126, 459pp.
Publication Date: November 1, 2010
* Individual store prices may vary.
Buy at Local Store
Enter your zip code below to purchase from an indie close to you.
or
Not Currently Available for Direct Purchase
Description
Why do millions of smart, savvy, successful men fall helplessly in love with women who are destined to break their hearts? Who are these Bad Girls, poised to pounce on the next nice guy just waiting to become their prey? And how can good girls learn to become man-magnets without becoming 'bad'?
Bad Girls: Why Men Love Them & How Good Girls Can Learn Their Secrets by Dr. Carole Lieberman is a no-holds barred, provocative look at the dangerous damsels who steal the hearts of men everywhere. They take what they want -money, sex, drugs, or other objects of desire -and leave these unsuspecting men in the dust.
While Bad Girls have different strategies for manipulating nice guys, they share certain alluring traits. Irresistibly exciting, clever, flirtatious, and seductive, they make their man feel like the sexiest, most invincible stud on the planet
For ladies, there's the Bad Girl Test to reveal whether you're a Wanna-Be Bad Girl, a Man-Eater or somewhere in between. For men, there's The Sitting Duck Test to warn you just how vulnerable you are.
In this irreverent and insightful look at love, Lieberman helps good girls discover bad girl secrets, so that men will fall at their feet without breaking their hearts.
Throughout the book, she shares page-turning, real-life stories of men who have loved Bad Girls and have lived to tell the tale. Culled from over one hundred interviews, some are shocking, some sad, some hard to believe, but all compelling and unforgettable. And at the end of every chapter, the author describes famous Bad Girls who captivate us - from Scarlett O'Hara to Madonna, Anna Nicole Smith to Cleopatra, and Angelina Jolie to the ladies of Sex and the City.
About the Author
Dr. Lieberman is recognized from her appearances as a psychiatric expert on such shows as Oprah, Larry King Live, The Today Show, Good Morning America, and Entertainment Tonight, and she is quoted regularly in newspapers and magazines around the world.

One of society's most highly-respected psychiatrists, Beverly Hills analyst-to-the-stars Dr. Carole Lieberman is a three-time Emmy award-winner and host of the popular talk show, Dr. Carole's Couch. Dr. Lieberman is well known for her insight into the social issues of our time, from dating to dealing with the threat of terrorism, and is often called upon as an expert witness in high-profile legal trials. Dr. Lieberman is the best-selling author of Bad Boys: Why We Love Them, How to Live with Them, and When to Leave Them; and Coping With Terrorism: Dreams Interrupted. Born and raised in New York City, Dr. Lieberman is a Diplomate of the American Board of Psychiatry and Neurology, and a well-regarded member of the Clinical Faculty at U.C.L.A.'s Neuropsychiatric Institute.