The Tempest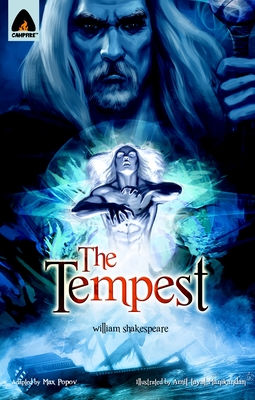 The Tempest
Kalyani Navyug Media,, Paperback, 9788190751537, 93pp.
Publication Date: August 28, 2012
* Individual store prices may vary.
Buy at Local Store
Enter your zip code below to purchase from an indie close to you.
or
Buy Here
Description
When the King Alonso of Naples and his entourage sail home for Italy after attending the princess Claribel's wedding in Tunis, Africa, they encounter a violent tempest. After jumping overboard, everyone washes ashore on a strange island inhabited by the magician Prospero, who deliberately conjured the storm. Who is this Prospero and why does he produce the tempest? What is the power that he has over the spirits inhabiting the island, especially concerning the half human, half savage Caliban?

A delightful romantic drama with undertones of betrayal and retribution, domination and subjugation, The Tempest remains to this day one of the more popular plays written by Shakespeare. The themes of freedom, friendship, repentance and forgiveness are beautifully interwoven, and by the end of the play, the tempest--both real and figurative--has calmed the most vengeful of avengers and washed away the sins of the most evil of wrongdoers.
About the Author
Arguably the greatest English-language playwright, William Shakespeare was a seventeenth-century writer and dramatist, and is known as the Bard of Avon. Under the patronage of Queen Elizabeth I, he penned more than 30 plays, 154 sonnets, and numerous narrative poems and short verses. Equally accomplished in histories, tragedies, comedy, and romance, Shakespeare s most famous works include Romeo and Juliet, Hamlet, Macbeth, King Lear, The Taming of the Shrew, and As You Like It.
Like many of his contemporaries, including Christopher Marlowe, Shakespeare began his career on the stage, eventually rising to become part-owner of Lord Chamberlain s Men, a popular dramatic company of his day, and of the storied Globe Theatre in London.
Extremely popular in his lifetime, Shakespeare s works continue to resonate more than three hundred years after his death. His plays are performed more often than any other playwright s, have been translated into every major language in the world, and are studied widely by scholars and students.
Amit Tayal is a multi-award winning illustrator. Working for almost a decade Amit produced a wide range of illustration styles, using both digital and traditional methods.Amit has worked in various publications and animation studios. Working in numerous educational, children books and comic books, he has been published around the world and has won multiple awards for his work.