Years of the Elephant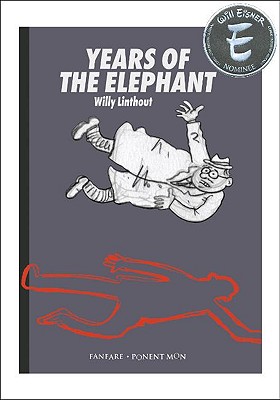 Years of the Elephant
Ponent Mon, Paperback, 9788492444304, 162pp.
Publication Date: August 1, 2009
* Individual store prices may vary.
Buy Now
or
Shop Local
Enter your zip code below to purchase from an indie close to you.
Description
Madam ... Sir ... May we come in? ... What could the policemen want at their door at this hour? ... I'm afraid we have some bad news ... Before these dreadful words were spoken it had been a normal start to the day in the Germonprez residence. Carl checking on his modest investments in the newspaper, Simone tackling some early morning housework and their son Bart ... Your son has jumped off the roof ... At first there was no pain, just the blur. Carl, in an emotional haze, heads off to work only to discover, on the sidewalk outside their home, a chalk outline where there had been a son. Willy Linthout follows Carl's journey intimately and sympathetically with unfinished art as he careers from colleagues to friends, therapists to machines, crazy to angry in his attempt to deal with his son's suicide. But, as Willy knows only too well himself, this particular journey is long and may be never ending.
About the Author
Willy Linthout was born in Eksaarde, Belgium in 1953. He was a comics collector when he met Flemish comedian Urbanus. They decided to create a comic strip together called Urbanus. The first book appeared in 1983, and it soon became one of the most popular Flemish comic strips. So far, 135 books have appeared in the series. For this Linthout has been called, "The Charles Schultz of Belgium." However, after the suicide of his son Linthout wrote and drew the autobiographical graphic novel Years of the Elephant, which is still used as a textbook for overcoming grief. For this book he was nominated for an Eisner Award in North America and many awards for the Flemish and Dutch versions.



Michiel Horn is well known for his work in Canadian history, including his recent book, Becoming Canadian: Memoirs of an Invisible Immigrant, publishing by University of Toronto Press in 1997. He currently teaches history at Glendon College of York University.