John Wesley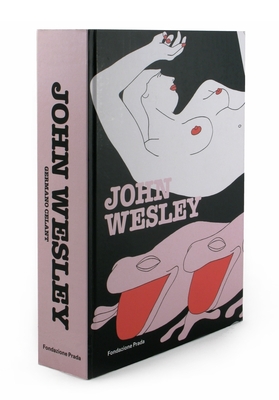 John Wesley
Fondazione Prada, Hardcover, 9788887029437, 557pp.
Publication Date: October 31, 2009
* Individual store prices may vary.
Not Currently Available for Direct Purchase
or
Shop Local
Enter your zip code below to purchase from an indie close to you.
Description
Over the course of 40 years, New York-based Pop painter John Wesley has created a singular body of work with a cast of characters including Dagwood Bumstead, birds and bears all rendered in the same flat sky blue, flesh beige and candy pink palette. Employing a comic strip style and a compositional rigor, Wesley makes warm, sexy paintings with a frequent twist of the bizarre. "When post-global-warming anthropologists begin paddling through the streets of Manhattan in search of visible evidence that this republic was... the cosmopolitan democracy that it purported to be," writes Dave Hickey of this work, "one can only hope that the earnest scientists will stumble across a trove of Wesley's paintings in some tenth-floor loft. If they do, they will almost immediately begin to think better of us. They will think, Hey! These weren't such bad dudes! How could they be? They were cool, generous, and urbane; they encouraged high spirits and valued sex enough to make it elegant and funny."
About the Author
Germano Celant is Senior Curator of Contemporary Art at the Guggenheim Museum. He has published extensively on Robert Mapplethorpe and the rich art historical past referenced in the photographeris work.

John Wesley (17031791) was an eighteenth century Anglican clergyman and Christian theologian who was the founder of the Methodist movement. Methodism had three rises, the first at Oxford University with the founding of the so-called Holy Club, the second while Wesley was parish priest in Savannah, Georgia, and the third in London after Wesleys return to England. The movement took form from its third rise in the early 1740s when Wesley, along with others, began itinerant field preaching and the subsequently founded religious societies for the formation of believers. This was the first widely successful evangelical movement in Britain. Wesleys Methodist Connexion included societies throughout England, Scotland, Wales and Ireland before spreading to other parts of the English-speaking world and beyond. He divided his religious societies further into classes and bands for intensive accountability and religious instruction.