The Adventures of Tom Sawyer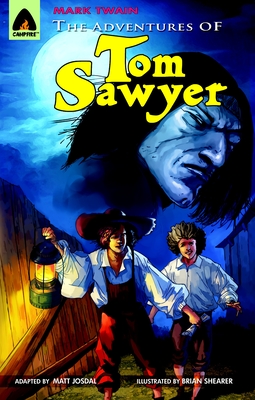 The Adventures of Tom Sawyer
The Graphic Novel
Campfire, Paperback, 9789380028347, 68pp.
Publication Date: October 5, 2010
* Individual store prices may vary.
Shop Local
Enter your zip code below to find indies closest to you.
Description
Tom Sawyer is a mischievous young boy with an undying hunger for adventure, and a knack for getting into trouble. He lives with his Aunt Polly in the Mississippi River town of St Petersburg, Missouri. He plays hooky from school; hangs around with Huck Finn, the unsophisticated son of the village drunkard; and deceives his friends into trading their treasures with him.
 
Tom falls in love with Becky Thatcher, a new arrival in town, who returns his affection initially, and even agrees to an 'engagement'. However, after a slip of the tongue from Tom, she walks off in a huff.
 
From innocent and imaginary adventures, Tom's life suddenly takes a new turn. One night, while Tom and Huck Finn are in a graveyard, they witness an incident they should not have. Terrified, they flee from the spot, and swear a blood oath that they will never reveal their secret to anyone.
 
Tom and Huck then find themselves entangled in a series of real and exciting adventures, with dangerous men constantly at their heels.
 
Can the boys stand up to the occasion, and become real-life heroes? Will they ever be able to reclaim their normal, carefree lives again?
About the Author
Shelley Fisher Fishkin is Joseph S. Atha Professor of Humanities, Professor of English and Director of American Studies at Stanford University. She is the author of "Lighting Out for the Territory: Reflections on Mark Twain and American Culture "(1997); "Was Huck Black? Mark Twain and African-American Voices "(1993), selected as an Outstanding Academic Book by "Choice; "and "From Fact to Fiction: Journalism and Imaginative Writing in America "(2000), winner of a Frank Luther Mott/Kappa Tau Alpha Award for outstanding research in journalism history. She is also the editor of the 29-volume "Oxford Mark Twain "and the "Oxford Historical Guide to Mark Twain. "Barry Moser is one of the foremost wood engravers in the United States and is the proprietor of the Pennyroyal Press. Among other books, he illustrated "Huckleberry Finn "(California, 1985), "Moby Dick "(California, 1981), "Dante's Inferno "(California 1980), "Purgatorio "(California, 1981), and "Paradiso "(California, 1984), and the "Holy Bible "(1999). The Mark Twain Project is housed within the Mark Twain Papers, the world's largest archive of primary materials by this major American writer. Under the direction of General Editor Robert H. Hirst, the Project's five editors are producing the first comprehensive edition of all Mark Twain's writings, more than thirty volumes of which have so far been published by the University of California Press.




Praise For The Adventures of Tom Sawyer…
"I highly recommend Campfire's comics. They do what they are intended to do and do it in  a way that excites kids about classic literature."

— Chris Wilson, The Graphic Classroom (a resource for teachers and librarians)