The Adventures of Huckleberry Finn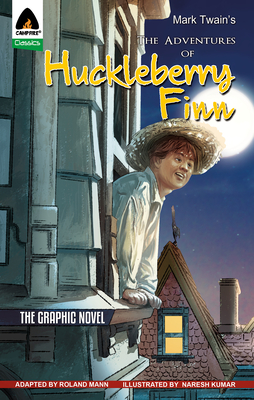 The Adventures of Huckleberry Finn
Campfire, Paperback, 9789380028354, 68pp.
Publication Date: October 19, 2010
* Individual store prices may vary.
Buy Now
or
Shop Local
Enter your zip code below to purchase from an indie close to you.
Description
Running away seemed like a good idea at the time...
 
The Widow Douglas is doing her best to civilise Huckleberry Finn, but it just isn't working. Wearing clean clothes, going to school, and having a hot meal waiting for him when he gets home are becoming boring and tedious.
 
So, to make his life more interesting Huck, as he is normally called, decides to join Tom Sawyer's gang of outlaws. However, when they fail to be the vicious ransom specialists they claim to be, Huck decides to forget about excitement and tries to give his civilised life another go. He attends school and minds his own business... for a while.
 
After his father turns up out of the blue and starts causing trouble, Huck decides he's had enough of normal life and sets sail on his raft for a secluded island. When he arrives he finds he's not the only one who has decided to live there. On the island, he encounters thieves, a flood that provides a nice surprise, con men, violent shootouts, family feuds and much more.
 
After so much adventure, Huckleberry Finn ends up wishing he was back at home, tucked up in bed after a hot meal. But does this wish come true, or do his adventures continue?
About the Author
Roland Mann is a writer, editor, speaker, and professor. As writer, he is best known for his work on Cat & Mouse, a comic which ran for nearly two years, garnered critical acclaim and led Roland to other work. Other titles Roland wrote include Rocket Ranger, Miss Fury, Planet of the Apes: Blood of the Apes, Krey and Demon's Tails. As editor, Roland is best known for his time as a Malibu/Marvel Comics editor where he edited The Protectors line of comics and many Ultraverse titles. Roland also served as Editor and Publisher of Silverline, a line of independent comics that included such titles as Switchblade and The Scary Book. Roland earned an MFA in Writing from Spalding University, a MA in English from the University of North Alabama, and a BS in Creative Writing from the University of Southern Mississippi. In addition to his work in comics, Roland has been a newspaper editor and an advertising flunky, but more recently he has taught English at the university level. He is also a frequent speaker at writing workshops/conferences where many find his sessions encouraging. Roland's first novel, Buying Time, was published in 2010 as were his graphic novel adaptations of the classic novels The Adventures of Huckleberry Finn and The Wonderful Wizard of Oz. Roland currently teaches Creative Writing at Full Sail University and lives in Winter Springs, Florida with his wife BJ, daughter Brittany, and son Brett, where he is busy working on his next project. Updated information can be found on his website www.rolandmann.me where he also occasionally blogs.

John S.Tuckey was Professor of English at Purdue University. He was the author of "Mark Twain and Little Satan "as well as other studies on the writings of Mark Twain.


Praise For The Adventures of Huckleberry Finn…
This slender graphic adaptation of the Great American Novel preserves some of Twain's language, most of his plot and a good sense of his sardonic take on human society. Mixing dialogue balloons with enough boxed narrative to evoke Huck's distinctive voice, Mann packs in all of the major incidents and tones down at least some of the violence — the two con men are only "punished" here rather than specifically tarred and feathered, for instance. Similarly, though Huck gets viciously slapped around by his father in the pictures, in general there isn't much other blood visible. . . . A good choice for readers who aren't quite up to tackling the original, with perfunctory but well-meant notes on Twain's life and the history of slavery in the United States. Co-published with its prequel, The Adventures of Tom Sawyer.

— Kirkus Reviews

"I highly recommend Campfire's comics. They do what they are intended to do and do it in  a way that excites kids about classic literature."

— Chris Wilson, The Graphic Classroom (a resource for teachers and librarians)