The People That Time Forgot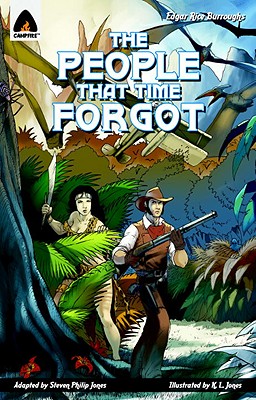 The People That Time Forgot
The Graphic Novel
Campfire, Paperback, 9789380028392, 72pp.
Publication Date: January 4, 2011
* Individual store prices may vary.
Shop Local
Enter your zip code below to find indies closest to you.
Description
It was supposed to be a standard rescue...

As far as Tom Billings was concerned, all he had to do was set sail for the South Pacific island of Caprona and find the last-known whereabouts of Bowen J Tyler. It sounded so simple.

However, arriving on the island with his own private army, Billings becomes separated from his companions after a machine gun fight with what appears to be a prehistoric creature.

Standing between Billings and Tyler is the interior of the island, known to its local population as Caspak. It is a hot, overgrown, and unforgiving land. We accompany Billings step by step as he experiences strange rituals, vicious creatures and ancient tribes - many of whom want to kill him. There are times when he almost resigns himself to death in the face of insurmountable odds. But, true to his nature, he never gives up.

The People that Time Forgot is the second book in the Caspak trilogy, written by Edgar Rice Burroughs. Since 1918, this science fiction story has delighted and enthralled millions of readers. Preceded by The Land that Time Forgot, this second book in the Caspak trilogy will capture your imagination, by bringing to life the wild, ferocious and dangerous island that is Caspak.
About the Author
Edgar Rice Burroughs (1875-1950) is the creator of Tarzan, one of the most popular fictional characters of all time, and John Carter, hero of the Barsoom science fiction series. Burroughs was a prolific author, writing almost 70 books before his death in 1950, and was one of the first authors to popularize a character across multiple media, as he did with Tarzan s appearance in comic strips, movies, and merchandise. Residing in Hawaii at the time of the attack on Pearl Harbour in 1941, Burroughs was drawn into the Second World War and became one of the oldest war correspondents at the time. Edgar Rice Burroughs s popularity continues to be memorialized through the community of Tarzana, California, which is named after the ranch he owned in the area, and through the Burrough crater on Mars, which was named in his honour.



Steven Philip Jones has spent most of his life living in eastern Iowa. Steven has written fiction novels for adults and young adults, comic books, graphic novels, radio scripts, non-fiction, and advertising pieces. Steven has also taught courses in comic book writing and enjoys mentoring other writers as well as editing. A graduate of the University of Iowa, he majored in Journalism and Religion and was accepted into Iowa's prestigious Writers' Workshop MFA Program in 1990. Some of his comic book work includes adaptations of Sherlock Holmes, Dracula and H.P. Lovecraft, Talismen, and his creator owned series, Street Heroes. Aldin Baroza is an animation storyboard artist and comics artist and has comics published by Caliber and Slave Labor Graphics including the acclaimed series, Tales from the Heart. He work has also been featured in Tokyopop's Rising Stars of Manga as well as The Asian American Comics Anthology. His Rose Madder is a creator owned series. He has also storyboarded, and worked as a storyboard director and assistant director on various animated television shows, including Hey, Arnold!, Rugrats, Rocket Power, Family Guy, American Dad, Squirrel Boy, Sit Down, Shut Up, and Napoleon Dynamite, and Futurama, and was nominated for an Annie Award in 2008 for storyboards on The Replacements. He is currently working as a director on Axe Cop, High School USA!, Golan the Insatiable, and Major Lazer for the Fox network's Saturday night animation block.
Praise For The People That Time Forgot…
"I highly recommend Campfire's comics. They do what they are intended to do and do it in  a way that excites kids about classic literature." — Chris Wilson, The Graphic Classroom (a resource for teachers and librarians)

"The art is lively and detailed... These are well-drawn and exciting adventure stories." — JenniferW, No Flying No Tights