Personal Recollections of Joan of Arc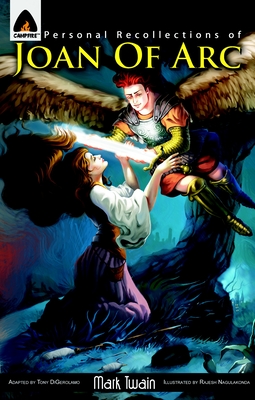 Personal Recollections of Joan of Arc
Campfire, Paperback, 9789380028439, 68pp.
Publication Date: January 18, 2011
* Individual store prices may vary.
Buy at Local Store
Enter your zip code below to purchase from an indie close to you.
or
Buy Here
Description
No one ever took Joan seriously...

Joan of Arc was gifted with visions instructing her to liberate France from the armies of the English. As a young woman she defied friends, family, and even members of the government in her attempts to free the French.

By the strength of her personality and her ability to foretell the future, Joan convinced the King of France to grant her an armed force. In return, she led her small band of followers to take on and defeat the might of the English. Her conviction ensured her a place at the forefront of France's military history.

During her adventures, Joan of Arc inspired unlikely allies to join her, faced danger unflinchingly, planned battle-winning strategies and had the insight to motivate a nation. All that stood between Joan and her visions becoming reality were the treacherous actions of bureaucrats, and a King unable to think for himself.

From Mark Twain, the writer of The Adventures of Tom Sawyer and The Adventures of Huckleberry Finn (also published by Campfire), comes an engaging tale of friendship, courage, conviction and treachery. Since 1896, the original novel of Joan of Arc has been reprinted again and again, proving that its themes of determination, friendship and sacrifice are still relevant in today's modern world.
About the Author
DiGerolamo has written jokes for Politically Incorrect with Bill Maher & two screenplays for Eagle Films. He is the writer and creator of The Jersey Devil & The Travelers comics.

Mark Twain, born Samuel Langhorne Clemens, was an American humorist and writer, who is best known for his enduring novels The Adventures of Tom Sawyer and Adventures of Huckleberry Finn, which has been called the Great American Novel. Raised in Hannibal, Missouri, Twain held a variety of jobs including typesetter, riverboat pilot, and miner before achieving nationwide attention for his work as a journalist with The Celebrated Jumping Frog of Calaveras County. He earned critical and popular praise for his wit and enjoyed a successful career as a public speaker in addition to his writing. Twain s works were remarkable for his ability to capture colloquial speech, although his adherence to the vernacular of the time has resulted in the suppression of his works by schools in modern times. Twain s birth in 1835 coincided with a visit by Halley s Comet, and Twain predicted, accurately, that he would go out with it as well, dying the day following the comet s return in 1910.


Praise For Personal Recollections of Joan of Arc…
Personal Recollections of Joan of Arc in the Campfire edition is a good way to introduce younger readers to one of the lesser works of one of the great American writers, a work they are not likely to seek out on their own. . . . Also useful for the younger reader is the short biographical note on Mark Twain and a two-page appendix with information on other famous female warriors.

— Blogcritics.org


"I highly recommend Campfire's comics. They do what they are intended to do and do it in  a way that excites kids about classic literature."

— Chris Wilson, The Graphic Classroom (a resource for teachers and librarians)