The Prince and the Pauper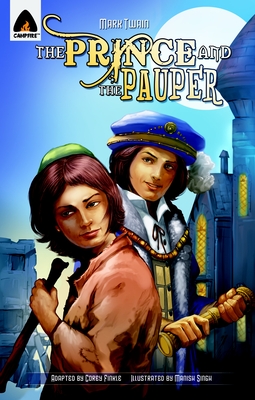 The Prince and the Pauper
Campfire, Paperback, 9789380028453, 68pp.
Publication Date: January 25, 2011
* Individual store prices may vary.
Buy at Local Store
Enter your zip code below to purchase from an indie close to you.
or
Buy Here
Description
A chance meeting between a member of the royal family and a street urchin triggers a course of events that form the basis of this enthralling story.

Tom, the pauper; and Edward, the prince, discover that not only do they share the same birthday, but they also look identical. Being the boys that they are, they decide to have some fun and exchange clothes. However, little do they know that this will land them up in the most bizarre of situations.

Inadvertently, the boys end up swapping places with each other - Tom becomes the prince; and Edward, the pauper. No one believes them when they try to explain their true identities, so they are forced to adapt to their new lifestyles, with very interesting consequences.

This well-loved novel by Mark Twain takes a humorous look at 16th century society, and the inequalities that existed at that time, and perhaps still do today.
About the Author


Mark Twain, born Samuel Langhorne Clemens, was an American humorist and writer, who is best known for his enduring novels The Adventures of Tom Sawyer and Adventures of Huckleberry Finn, which has been called the Great American Novel. Raised in Hannibal, Missouri, Twain held a variety of jobs including typesetter, riverboat pilot, and miner before achieving nationwide attention for his work as a journalist with The Celebrated Jumping Frog of Calaveras County. He earned critical and popular praise for his wit and enjoyed a successful career as a public speaker in addition to his writing. Twain s works were remarkable for his ability to capture colloquial speech, although his adherence to the vernacular of the time has resulted in the suppression of his works by schools in modern times. Twain s birth in 1835 coincided with a visit by Halley s Comet, and Twain predicted, accurately, that he would go out with it as well, dying the day following the comet s return in 1910.


Praise For The Prince and the Pauper…
"I highly recommend Campfire's comics. They do what they are intended to do and do it in  a way that excites kids about classic literature."

— Chris Wilson, The Graphic Classroom (a resource for teachers and librarians)