Romeo and Juliet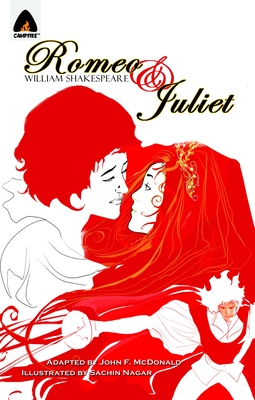 Romeo and Juliet
Campfire, Paperback, 9789380028583, 80pp.
Publication Date: May 24, 2011
* Individual store prices may vary.
Buy Now
or
Shop Local
Enter your zip code below to purchase from an indie close to you.
Description
A story of ill-fated lovers whose untimely deaths unite two feuding families, Romeo and Juliet has become the archetype of young love destined to meet a tragic end.

The hatred between the House of the Capulets and the House of the Montagues is well known in Verona. Yet love blossoms between Romeo and Juliet. A brawl between the kinsmen of the Houses leads to Romeo's exile, and from then on it is a series of misjudgments and chance - of time, place, and event that inexorably play out the lovers' doom.

One of the most popular of Shakespeare's plays, and one of his most performed, Romeo and Juliet is an enduring love story of emblematic proportions. Campfire's adaptation seeks to bring this iconic work of Shakespeare to young readers in a language that is simple yet Shakespearean, and art that movingly recreates a tragic romance of 16th-century feudal Italy.
About the Author
Arguably the greatest English-language playwright, William Shakespeare was a seventeenth-century writer and dramatist, and is known as the Bard of Avon. Under the patronage of Queen Elizabeth I, he penned more than 30 plays, 154 sonnets, and numerous narrative poems and short verses. Equally accomplished in histories, tragedies, comedy, and romance, Shakespeare s most famous works include Romeo and Juliet, Hamlet, Macbeth, King Lear, The Taming of the Shrew, and As You Like It.
Like many of his contemporaries, including Christopher Marlowe, Shakespeare began his career on the stage, eventually rising to become part-owner of Lord Chamberlain s Men, a popular dramatic company of his day, and of the storied Globe Theatre in London.
Extremely popular in his lifetime, Shakespeare s works continue to resonate more than three hundred years after his death. His plays are performed more often than any other playwright s, have been translated into every major language in the world, and are studied widely by scholars and students.
John F. McDonald is professor emeritus of economics and finance at the University of Illinois at Chicago. Currently he serves as editor of the Journal of Real Estate Literature. He has been a member of the editorial board of the Journal of Urban Economics since 1989 and was president of the Illinois Economic Association.
Praise For Romeo and Juliet…
 "I found this to be a very well-written adaptation, true to the original. . . . Well done and attractive . . . This is a perfect introduction to the play." — Nicola Manning, Back to Books


"I highly recommend Campfire's comics. They do what they are intended to do and do it in  a way that excites kids about classic literature."

— Chris Wilson, The Graphic Classroom (a resource for teachers and librarians)