The War of the Worlds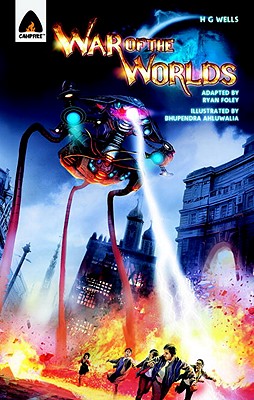 The War of the Worlds
The Graphic Novel
Campfire, Paperback, 9789380028606, 72pp.
Publication Date: July 5, 2011
* Individual store prices may vary.
Buy at Local Store
Enter your zip code below to purchase from an indie close to you.
or
Buy Here
Description
London, England.
At the dawn of the twentieth century, the most significant event in human history has come to pass. Contact from an alien planet has been achieved. Rocket capsules fired from the surface of Mars have crashed into the southern
English countryside.
But what should be a moment of scientific curiosity and wonderful first contact between two alien worlds turns instead into disaster. The annihilative weapons of the Martians leave no doubt whatsoever about the nature of the alien contact -an outright invasion of Earth.
In the midst of the chaos and devastation, one man makes a desperate attempt to save himself and make his way back to his family. Follow his account of the incredible events he encounters in Campfire's vivid adaptation of H G Wells's
masterpiece, The War of the Worlds.
About the Author
Often called the father of science fiction, British author Herbert George (H. G.) Wells literary works are notable for being some of the first titles of the science fiction genre, and include such famed titles as The Time Machine, The War of the Worlds, The Island of Doctor Moreau, and The Invisible Man. Despite being fixedly associated with science fiction, Wells wrote extensively in other genres and on many subjects, including history, society and politics, and was heavily influenced by Darwinism. His first book, Anticipations of the Reaction of Mechanical and Scientific Progress Upon Human Life and Thought, offered predictions about what technology and society would look like in the year 2000, many of which have proven accurate. Wells went on to pen over fifty novels, numerous non-fiction books, and dozens of short stories. His legacy has had an overwhelming influence on science fiction, popular culture, and even on technological and scientific innovation. Wells died in 1946 at the age of 79.




Praise For The War of the Worlds…
"Wells's classic sf story has been retold frequently since its original publication in 1898. It has also been updated several times, from Orson Welles's panic-inducing 1938 radio broadcast to the 2005 film starring Tom Cruise. This adaptation maintains the original setting and time period as aliens from Mars invade 19th-century England. . . . Despite the prevalence of War versions available in various formats, graphic novels seem to be a rarity. The art here captures the mood well and lends an air of excitement to the narrative, whether depicting explosive moments of warfare or the tense stillness of the narrator hiding in abandoned buildings. The story is mature but not terribly graphic. Recommended for young adult readers, particularly those who claim to hate reading." -- School Library Journal

"…a fantastic overview of this early sci-fi classic which delivers Wells' warning that mankind should not presume that because it enjoys a place at the top of the food chain, that it may not always be that way."

– John Tompkins, Sweet Union 'Toonists


"I highly recommend Campfire's comics. They do what they are intended to do and do it in  a way that excites kids about classic literature."

— Chris Wilson, The Graphic Classroom (a resource for teachers and librarians)